High-potency strains are a big hit with customers in Washington State's new recreational market, it seems.
The Spokane-based rec shop Cinder reports that its top seller in recent days is a God's Gift strain that boasts a THC potency level of nearly 32%.
Cinder owner Justin Peterson told a local TV station that it's one of the strongest strains he's ever come across. Most cannabis strains currently sold in Washington typically fall between 18% and 24% on the THC scale, he said.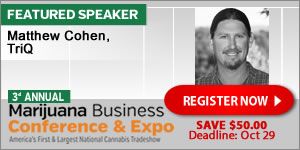 With such a high level of potency, customers who buy the strain don't have to smoke as much to get high. And at $22 a gram, it's also priced much lower than some other high-potency options, which might help explain its popularity.
Recreational shops in Colorado and dispensaries across the country have also seen a spike in demand for cannabis with higher potency levels. But the same is true on the other end of the spectrum: many consumers and patients, particularly light users, are increasingly seeking low-potency options so they can still function.