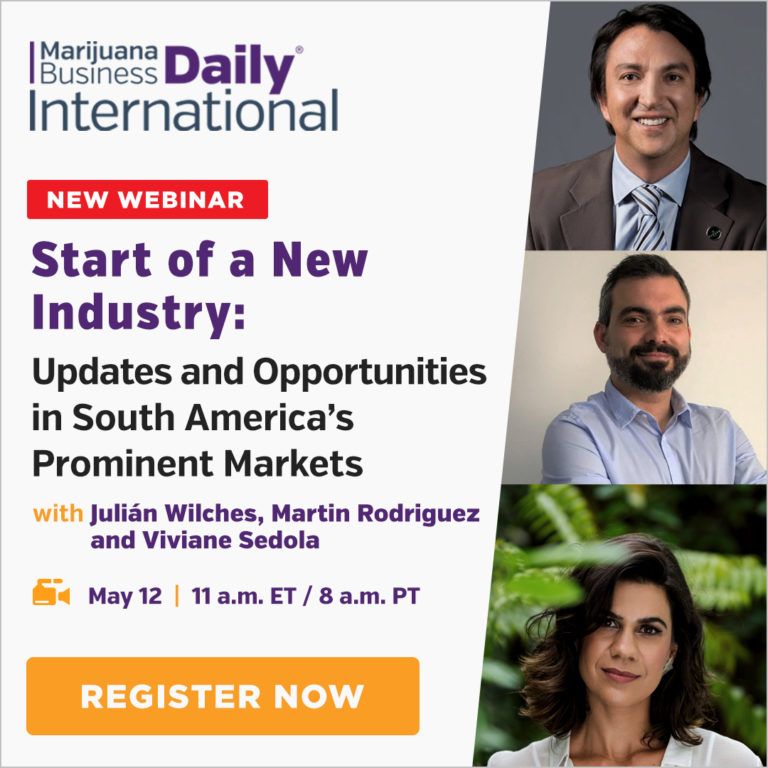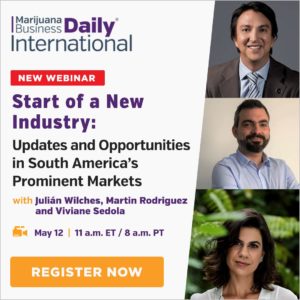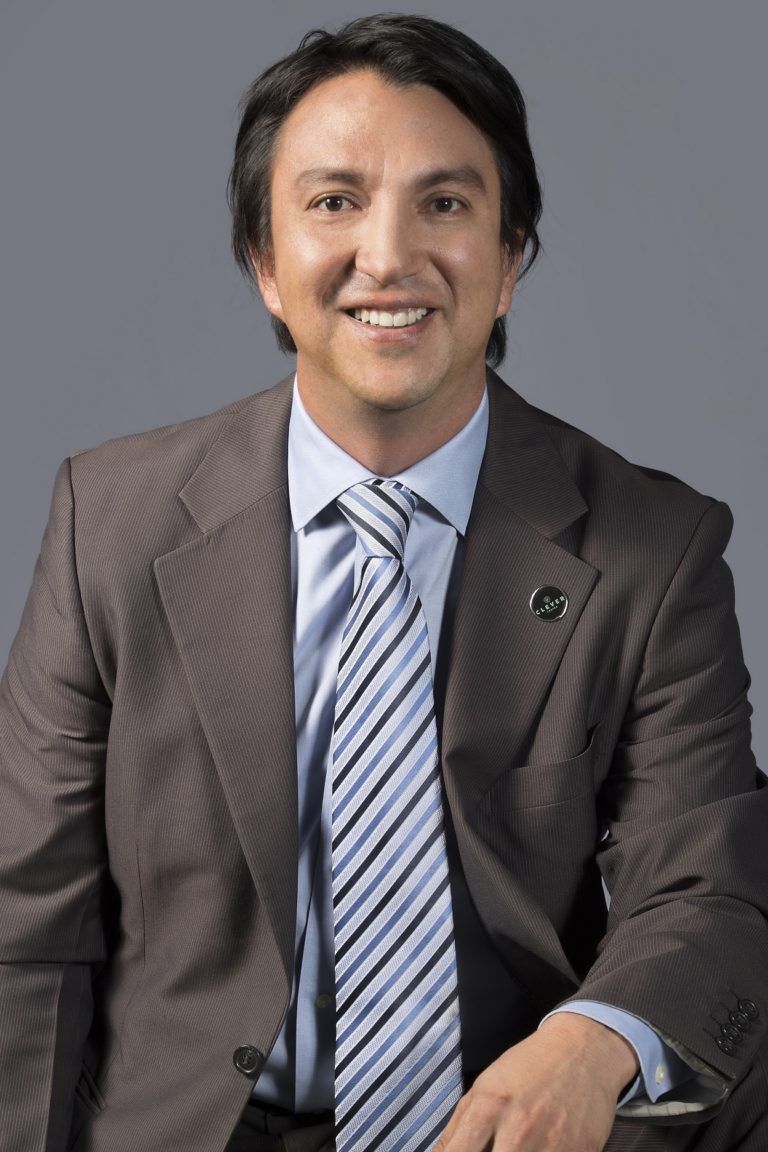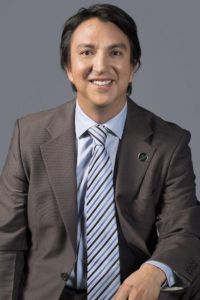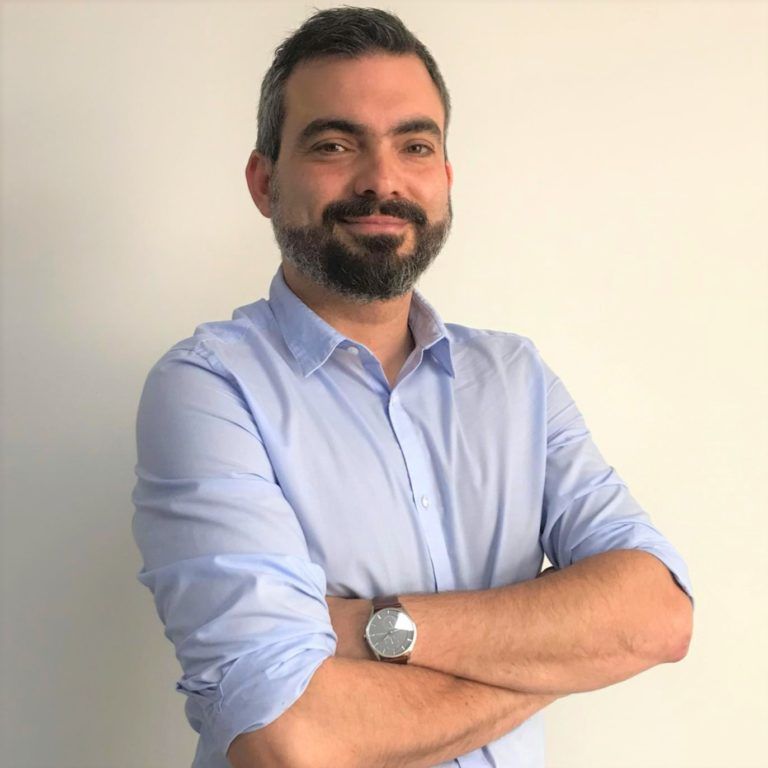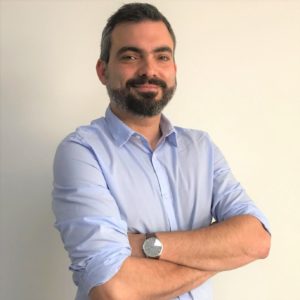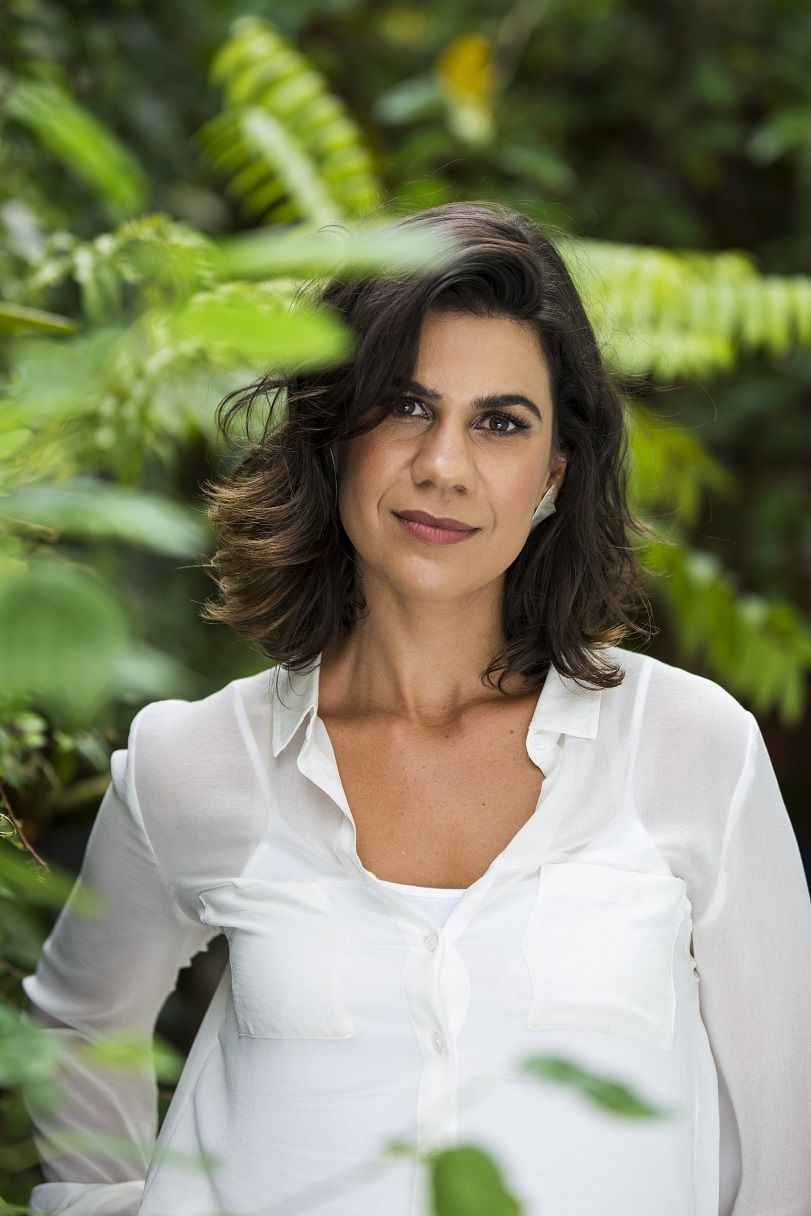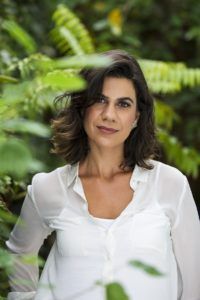 Cada país sudamericano se encuentra en diferentes etapas de legalización y regulación del cannabis, dejando un amplio margen para el desarrollo del mercado y las oportunidades de inversión.
Únete al analista internacional de MJBizDaily, Alfredo Pascual, y a un panel de expertos que hablarán más profundamente sobre algunos de los mercados más destacados de la región: Colombia, Brasil y Uruguay.
Julián Wilches, Director Regulatorio y Cofundador, Clever Leaves, Martín Rodríguez, Director Ejecutivo, Instituto de Regulación y Control del Cannabis, y Viviane Sedola, Fundadora y CEO, Dr. Cannabis, discutan:
Cómo COVID-19 está afectando la industria del cannabis en Sudamérica.
La situación actual en Uruguay desde la legalización.
Por qué los productores e inversores de cannabis deberían prestar atención a Brasil.
Los hitos alcanzados recientemente en Colombia.
Este seminario web es para productores, inversores, individuos y empresas que buscan oportunidades para exportar, expandirse o asociarse con empresas en los mercados sudamericanos de cannabis.
Haz preguntas, obtén respuestas en vivo: envía un correo electrónico a
webinars@mjbizdaily.com
para presentar tus preguntas antes del seminario web.
Este seminario web es en español. Habrá un guión en inglés disponible después de que se realice el seminario web en vivo.
Panelista: Julián Wilches, Director Regulador y Cofundador, Clever Leaves
Julián ha ocupado cargos de liderazgo y gran responsabilidad con resultados comprobados tanto en el sector público como en el privado. Tiene una gran experiencia en el diseño e implementación de políticas de drogas.
Especializado y experto en política de drogas, cooperación internacional y coordinación interinstitucional. Desde enero del 2018 Julián es el Director de Asuntos Corporativos y Regulatorios de Clever Leaves. En esta posición está a cargo de estructurar y mantener las estrategias y políticas de relación de la compañía con diferentes partes de interés, incluidos gobiernos, reguladores y comunidades.
Julián fue Director de Política contra las Drogas del Ministerio de Justicia y del Derecho (2011-2014) y Asesor en el Programa Presidencial contra Cultivos Ilícitos (2005-2007). De igual forma fue el Subdirector de Articulación Interinstitucional en la Fiscalía General de la Nación (junio 2014-Dic 2015). Julián también fue consultor y asesor del Ministerio de Cultura (2003-2005), el Instituto Colombiano de Desarrollo Rural – Incoder, el Proyecto "Coordination of the Culture of Lawfulness" – NSIC (2007-2008), entre otros.
Julián es Politólogo de la Universidad de los Andes y tiene una Maestría en Periodismo de la Universidad de Alcalá de Henares (Madrid, España).
Panelista: Martín Rodríguez, Director Ejecutivo, Instituto de Regulación y Control del Cannabis – IRCCA.
Martín Rodríguez Araújo, Uruguay, 1978. Es Licenciado en Ciencia Política por la Universidad de la República de Uruguay. Desde su ingreso a la Administración Pública en 2008, ha desempeñado distintos cargos técnicos y de dirección en el Ministerio de Salud Pública y el Ministerio de Desarrollo Social. Desde 2016 es el Director Ejecutivo del Instituto de Regulación y Control del Cannabis – IRCCA
Panelista: Viviane Sedola, Fundadora y CEO, Dr. Cannabis
Viviane se caracteriza por su liderazgo e influencia en el mercado de Cannabis Brasileño, es fundadora y CEO de Dr. Cannabis. Ha participado como oradora invitada en audiencias públicas sobre cannabis medicinal en el Senado Federal, La Cámara de Diputados y la Asamblea Legislativa de São Paulo. Fue nombrada por la revista High Times en el evento Female 50 como una de las 50 mujeres más influyentes en el mercado de cannabis en el mundo.
Moderador: Alfredo Pascual, Analista Internacional, Marijuana Business Daily
Desde Alemania, Alfredo se especializa en los mercados y regulaciones internacionales de cannabis, basándose en su amplia experiencia académica en negocios y políticas públicas. Anteriormente, fundó Transnational Cannabis, una consultoría que asesoraba sobre marcos regulatorios del cannabis en Europa y América Latina. Antes de eso, realizó desarrollo de negocios para ICC Labs con enfoque principal en el desarrollo de oportunidades de expansión a nivel internacional.