A subsidiary company of Warren Buffet's Berkshire Hathaway conglomerate is reportedly exploring the waters of the cannabis industry.
The company, Cubic Designs Inc., has sent around 1,000 letters to marijuana dispensaries over the past few weeks, offering to help them "double your growing space."
Cubic Designs specializes in producing work platforms for commercial warehouses, thereby increasing work space.
The company became interested in serving the cannabis industry when a few cultivators contacted Cubic Designs expressing interest in the platforms. Warehouse space in many cities where cannabis cultivation is legal has become scarcer as the marijuana industry has exploded over the past few years.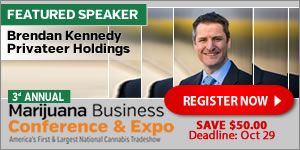 Cubic Designs is currently targeting cultivators in Colorado, Washington and California, but sent the letters to dispensaries primarily because often grow operations are hard to find. So they contacted dispensaries instead, with the hope that the dispensaries would pass the word on to their suppliers.