Cannabis Business Webinars
A collection of virtual broadcast resources brought to you by the editors of Marijuana Business Daily and Hemp Industry Daily.
DATE:
Thursday, April 15
TIME:
1:00 pm ET | 10:00 am PT
Taxes continue to be one of the biggest challenges for marijuana businesses in the U.S., and Section 280E plays a large role in creating confusion for operators. But new documents, obtained by Marijuana Business Daily through a Freedom of Information Act, shed light on how the rule is applied.
In this exclusive webinar, MJBizDaily Senior Reporter John Schroyer will host two of the cannabis industry's foremost legal experts on 280E as they try to unravel the complicated maze of regulations.
San Francisco-based attorney Henry Wykowski and Denver-based lawyer Nick Richards will discuss:
• How IRS agents approach cannabis business audits, including newly released details from the agency.
• The IRS' history of auditing the marijuana industry.
• What all of this might portend for cannabis businesses, including a possible ramp-up of IRS attention on marijuana companies.
---
In partnership with:

Free Webinars | Spring Science Webinars | March 23 – April 13
The publishers of MJBizDaily, along with our Content Partner, Emerald Scientific, are excited to bring you our Spring Science Webinars.
Analytical testing is continuing to advance and push the cannabis industry forward. As regulations around testing continue to evolve, labs need to stay informed on new developments and updates in methodology to ensure accurate results and promote consumer confidence. The content presented in these webinars will address different issues seen within analytical testing such as vape testing & analysis, testing methods for diverse samples, analytical methods for psilocybin and leveraging compliance to empower your lab. Each webinar will be followed by a panel discussion between experts on the topic presented. Attendees are encouraged to join the discussion afterwards and present live questions to the panel.
---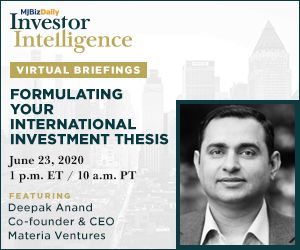 Free Webinar | Formulating Your International Investing Thesis
The green wave isn't isolated in the United States, but investment opportunities around the globe vary greatly.
In this free Investor Intelligence webinar, Deepak Anand, Co-founder and CEO of Materia Ventures, will discuss:
The evolution of the cannabis industry in Canada (Cannabis 2.0).
Navigating the regulatory complexity of the European market.
Growth of cannabis in Germany – how it is similar to yet unlike any other medical cannabis market in the world.
---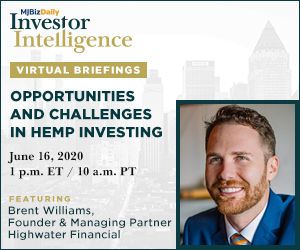 Free Webinar | Opportunities & Challenges in Hemp Investing
Hemp is often looked to as the gateway for cannabis investing, thanks to its federally legal status. But current conditions in the United States – including the COVID-19 pandemic – have created significant challenges, as well.
In this free Investor Intelligence webinar, Brent Williams, founder of Highwater Financial, discusses:
How to assess the current hemp opportunities and figure out what makes sense for your portfolio.
How the pandemic and recession have impacted the outlook for the industry.
What investors should be looking out for with hemp and CBD.
---
Free Webinar | How Cannabis Affects the Mainstream Portfolio
Even if you're not currently investing in cannabis, it's likely that the industry is already affecting other companies in your portfolio.
This Investor Intelligence webinar features Vivien Azer, Managing Director at Cowen, who provides insight on:
Why some mainstream companies are already looking to cannabis for growth.
Adjacent industries serving the cannabis industry – and how this may affect your portfolio.
Key subsectors of the marijuana industry and how to identify the best opportunities.
---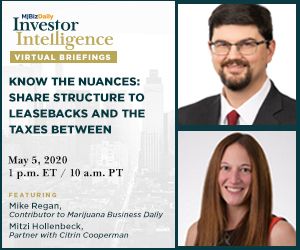 Free Webinar | Know the Nuances: Share Structure to Leasebacks and Taxes Between
While cannabis businesses are adopting a more mature approach to operations, the industry itself has many key nuances that may hinder successful investments.
In this free Investor Intelligence webinar, Mitzi Hollenbeck, Partner with Citrin Cooperman, and Mike Regan, Contributor to Marijuana Business Daily, explore topics such as:
How cannabis ownership structures can divert upside away from common equity.
The business and investment implications of tax regulations such as 280E.
Where adjacent opportunities exist
---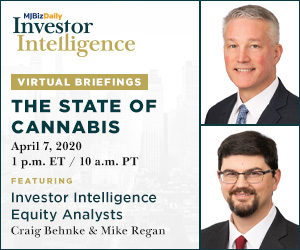 Free Webinar | MJBizDaily Investor Intelligence The State of the Cannabis Industry and 2020 Trends
Short-term challenges create long-term opportunities: Join Investor Intelligence's premier analysts, Craig Behnke and Mike Regan, as they delve into how to find the diamonds in the rough, which can be found even in the current capital climate.