By Chris Walsh
Illinois expands its medical marijuana program, the legalization drive in Oregon gains steam and dispensaries in one of California's largest MMJ markets get the worst possible news.
Here's a closer look at some notable business-related developments in the cannabis industry over the past week:
IL Patient Base, Revenues to Grow

The first dispensaries in Illinois won't open until next year, but the state has already made a major decision in their favor.
Earlier this week, Illinois officially added seizure disorders – including epilepsy – to the MMJ program's qualifying medical conditions list. What's more, children who experience seizures will be able to use non-smokable forms of cannabis, such as high-CBD oils.
This is a significant development for the market, as it could boost the patient registry noticeably.
An estimated 130,000 people with epilepsy live in Illinois, according to the Epilepsy Foundation of Greater Chicago. If just 10% sign up for MMJ cards, the patient registry would grow by 13,000. That could lead to an additional $25 million in revenue, according to our estimates.
In our Marijuana Business Factbook, we project that initial annual MMJ sales in Illinois will total between $25 million and $45 million – so the addition of seizures could push the market above the high end of that range.
Expanding the program further will be key from a business perspective, though.
Although the list of approved conditions includes nearly three dozen ailments, it does not cover many broader conditions such as post-traumatic stress disorder, chronic pain and sleep issues. So the market could be small from the start, despite Illinois' large population (nearly 13 million).
"I think every illness that is added to the list is a huge win for patients first, then businesses and then the state," said Michael Mayes, chief executive officer of the Chicago MMJ consultancy Quantum 9. "The supply-demand matrix is driven by the patient population, which is dictated by the state. At the start of the program, I believe the patient population will be low so that demand will not surpass what the cultivation centers can produce. As the program matures and supplies increase, more illnesses will be added to the program."
Rec on the Ballot in Oregon

Oregon now has a good chance at becoming the next state in the country to legalize recreational marijuana.
This week, state election officials certified a legalization initiative for the November ballot.
Oregon joins Alaska as a state that could legalize recreational cannabis this fall, and Washington DC could move in that direction as well.
With momentum growing in Oregon, observers are trying to get a good handle on the size of the market.
A study released this week (which we reported on this morning) estimates that the state will generate $38.5 million in taxes from rec cannabis sales during the first year of sales. That equates to nearly $200 million in revenue for the industry, according to an extrapolation of data based on numbers in the report.
To put that in perspective, sales at Colorado's recreational stores are on pace to hit roughly $200 million in sales this year, though that could rise if revenues continue to accelerate on a monthly basis.
It's doubtful Oregon's market would be as big as Colorado's, given population differences. Colorado also benefited from being the first state in the country to allow recreational sales.
So the initial estimates for Oregon could be high.
Hopes Fading in San Jose

It was another brutal week for the medical marijuana industry in San Jose.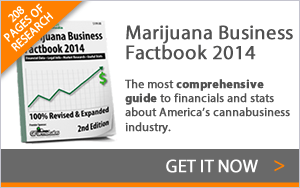 A bid to overturn stiff new regulations that will wipe out most cannabis businesses in the city failed to gain enough valid signatures.
The industry is not giving up: Advocates and business owners are hoping to gather signatures for another measure that would implement lighter restrictions.
But it's questionable whether they can get enough valid names, and the mayor has said he will oppose such measures.
The city has long ranked one of the largest MMJ markets in California behind Los Angeles. Unless the industry and advocates can pull off a last-minute miracle, San Jose will likely lose that distinction in the next few months.