By Chris Walsh
The nation's second recreational cannabis market takes a big step forward, notable names apply for Nevada business licenses and medical marijuana laws gain traction in several states.
Here's a closer look at several notable business-related cannabis developments over the past week:
Washington Rec Industry Taking Shape
Better late than never.
Washington state – which along with Colorado legalized recreational marijuana back in November 2012 – recently revealed the results of a lottery it held for retail store licenses.
Its recreational cannabis program now appears on track after several setbacks pushed back the opening of retail stores longer than many expected. The first shops could be up and running by late July or early August.
Colorado beat Washington to the punch by a mile, launching its recreational cannabis industry in January. From a regulatory standpoint, Colorado relied heavily on its existing medical marijuana rules when developing its recreational program, helping to speed up the process.
Washington had to build regulations pretty much from the ground up. It also experienced controversy in several areas – particularly the lottery, which was somewhat similar to the process Arizona used to dole out medical marijuana licenses. In the end, it came down to a matter of luck for applicants in many areas of Washington – which isn't exactly a fair way to handle such an important decision.
Then again, the licensing process is always a particularly big issue in markets where there are strict limits on the number of allowable storefronts (see: Massachusetts).
As expected, some businesses in Washington state that didn't make the final cut are preparing to file lawsuits. This type of legal action doesn't have a good track record, so it's questionable whether it will lead to any real changes. But you can't blame some applicants for being upset, especially those who own upstanding medical marijuana businesses and entrepreneurs who plunked down thousands of dollars to secure real estate.
Nevada Reflects New Era of MMJ
Check out the list of people who are tied to companies seeking medical marijuana business licenses in unincorporated areas of Clark County, Nevada.
It's pretty impressive: Former politicians (including a one-time adviser to president Ronald Reagan and George H.W. Bush). Philanthropists. A liquor industry executive. Healthcare leaders. A retiring district judge, a former NFL player (and Hall of Famer, to boot), restauranteurs, a media mogul, lobbyists…the list goes on.
On one hand, the fact that so many prominent people are involved isn't surprising. This is Nevada – which has a well-known history of supporting controversial businesses – after all.
But there's more to it than that.
The caliber of applicants highlights how rapidly the medical marijuana industry is changing. People who have made names for themselves in other industries are increasingly comfortable with hitching their wagons to the cannabis industry (again, see: Massachusetts). That wasn't the case just a few years ago, when mainstream professionals and politicians steered clear of marijuana businesses.
And to think: This is just for unincorporated areas of Clark County.
Just wait until Las Vegas opens its application process.
Legislative Update

Several states have made headway in recent days with medical marijuana legislation.
In Minnesota, the Senate passed a medical cannabis bill earlier this week that would create a network of up to 55 dispensaries across the state. The measure is extremely limited compared to MMJ laws in other states. Qualifying patients, for instance, wouldn't be be able to smoke marijuana – they'd only be be allowed to consume cannabis-based liquids and pills (they'd also be allowed to use vaporizers).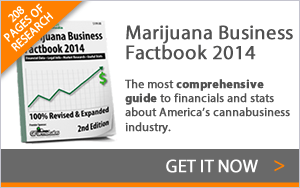 Today, the House will vote on a more restrictive version of the measure that would allow just one state-licensed cannabis producer. If either bill passes the full legislature and gets the governor's signature, Minnesota would become the 22nd state in the country to legalize medical marijuana.
It wouldn't be the most restrictive MMJ law, though.
Legislation allowing the use of low-THC marijuana extracts gained traction in several states this week, including Iowa, Florida and Missouri – following the lead of several other areas that have passed similar bills in recent months.
As we've pointed out before, this type of legislation usually doesn't create a lot of opportunities (and we don't include these states in the list of "official" medical marijuana markets). However, it represents a big step forward for the movement and could pave the way for broader medical marijuana legalization in these states down the road.