By Chris Walsh
Many cannabis companies have long accepted – and at times encouraged – marijuana use by employees while on the clock, even if doing so runs afoul of local laws.
But a shift is underway as the industry grows up and seeks to establish legitimacy within the mainstream business world.
Case in point: OpenVape – a Colorado-based business that makes vaporizers and related products – announced this week that it is barring employees at its corporate office from consuming cannabis on the job and before they come in for the day (workers who handle cannabis oils at its other locations already cannot consume at work due to state laws).
While it's certainly not the first marijuana-related company to go this route, an increasing number of businesses – both those that handle cannabis as well as those that don't – are moving in this direction by discouraging or even outright prohibiting employees from consuming during work hours.
It's an important step for an industry seeking credibility with investors, bankers, state and local officials, the public and traditional businesses. And it's crucial if cannabis businesses want to be taken seriously.
"We're in an industry that was built on renegades and outlaws, so there's a bit of rebellion in it," said Todd Mitchem, OpenVape's chief revenue officer. "But we started to feel like it's time to move forward. As a leading company in the industry, we recognized that we have to set an example for other businesses. We started thinking, how would a billion-dollar company approach this? They would have some policies in place."
Mitchem made it clear that the move is part of a bigger policy change at OpenVape focused on making a distinction between cannabis and dangerous drugs such as cocaine – the use of which at any time by employees will not be tolerated.
Its new policies on cannabis consumption, though, are particularly notable because they represent a clear break from some aspects of the cannabis culture.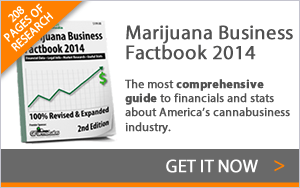 Going forward, OpenVape employees cannot use cannabis while on the clock at its corporate offices or working during business hours – including when driving – though workers can consume at after-hours gatherings and events. The company also reserves the right to test employees involved in an accident while working to see whether they were under the influence of cannabis, just as it might test for alcohol and other drugs.
"We don't want to vilify cannabis use – it's the industry we're in and what we believe," Mitchem said. "But we want to show what responsible use looks like. We ask employees not to consume at work or go out and become impaired, whether that's using cannabis or having a beer at lunch."
Banning consumption at work is not an easy decision, as it can create some near-term headaches with employees. Many workers see it as a perk of working in the marijuana industry, while others who need it for pain relief feel they should be able to medicate whenever they choose. The push-back can be significant.
Just ask Berkeley Patients Group, which enacted a drug policy that prohibits medical cannabis consumption at work several years ago, when doing so was especially taboo in some markets.
Sean Luse, chief operations officer of the California-based dispensary, said it was a difficult transition for some workers.
In the end, though, Berkeley Patients Group felt that banning marijuana use on the job was critical to creating a professional work climate while also respecting the medical needs of employees.
"It was quite the culture change to implement, but we couldn't imagine life without those policies now," Luse said.
Many cannabis businesses have tightened up their consumption policies in recent years, either because of state laws or because of a general desire to enact responsible policies.
As the industry advances, all businesses will have to move in this direction.
"I believe all cannabis companies, if they haven't already, will have to address the issue of cannabis consumption in the workplace," Luse said. "In order to be taken seriously by government officials and the general public and run responsible businesses, cannabis companies must enact common-sense policies to professionalize operations and create a safe work environment."