By Chris Walsh
Over the past few years, California has shifted from the epicenter of all things marijuana to one of the most unstable, unattractive medical cannabis markets in the country.
The situation is so precarious that California is becoming an afterthought for cannabis entrepreneurs – even those who would prefer to start or expand a business there. As a result, the state is in danger of experiencing a cannabis brain drain, where MMJ business pros and entrepreneurs target other markets with clear-cut regulatory models and stable cannabis business communities.
Case in point: Steve and Andrew DeAngelo – who run Harborside Health Center, regarded as the most successful dispensary in the world – have decided to focus their expansion elsewhere, as we reported earlier this week.
It's not that they don't want to grow in California or plan to abandon the state, where they operate successful dispensaries in Oakland and San Jose. Rather, the business conditions are simply too chaotic to warrant further expansion.
Here's how Andrew DeAngelo described it to us:
"We have not been able to expand in California due to the lack of statewide regulations and the actions of the federal government against Harborside. We have concluded that it is just too risky for us to mobilize the talent, time, and resources for an expansion in California without some type of statewide regulatory process in place to protect us from the feds."
He said the recent memo from the Department of Justice indicates that statewide regulations will serve as a litmus test determining whether the feds crack down on cannabis businesses or take a hands-off approach.
"Right now, California fails that litmus test, as the state Legislature has not been able to pass any regulations despite [our] best efforts to make it happen," Andrew DeAngelo said.
The DeAngelos do, however, see a ripe market in Massachusetts, Nevada and Washington State.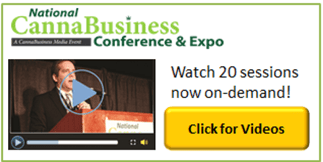 What do these areas have in common? They are all developing strict regulations on their marijuana programs (it should also be noted that all of these states will cap the number of dispensaries/retail stores that can operate).
"What we look for in any market we are thinking of expanding into is relatively simple," Andrew DeAngelo said. "Is there regulation and do those regulations work for us? Can we follow those regulations to a T and still fulfill our mission?"
Of course, many medical marijuana businesses in other MMJ states also are seeking out opportunities in new markets, and national expansion has always been in Harborside's long-term plans. Setting up shop in multiple states is a common business practice in other industries that is now becoming a reality in the cannabis sector, and it's a necessity for developing a far-reaching brand.
The difference in California: Local entrepreneurs and expansion-minded business owners feel they are being forced to look elsewhere. At the same time, few cannabis businesses in other states are seriously eyeing California, preferring greener pastures for their national growth.
State lawmakers have bungled this to monumental proportions. Their missteps have hampered a promising new industry that could benefit the economy, as Harborside and other companies take potential taxable revenues, jobs and investment dollars elsewhere.
The really unfortunate part is that following best practices and standards isn't enough to shield a medical cannabis operation from federal prosecution or drastic changes in the business environment, as Harborside has discovered.
Still, cannabusinesses can play a huge role in changing the situation by banding together to lobby state officials and educating them on the importance of statewide regulations.
Complacency is no longer an option. If lawmakers, with the help of cannabis professionals, don't get their act together quickly, California will get left behind by the very industry it helped create.
Top stories this week in Marijuana Business Daily:
10 Expansion Tips for US Companies Eyeing Canadian Market
Dispensary Owner Selected Mayor of CA Town
University Could Sell Testing Procedures
Unlicensed Businesses Targeted in CO Raids