By Chris Walsh
Enough is enough.
The federal government's strategy of pressuring financial institutions to shut out the cannabis industry is creating bigger risks for marijuana companies – as well as states and cities – by the day.
Dispensary owners and the industry's main trade organization have been shouting from the rooftops for something to be done for years. Now, the situation has reached a boiling point with more states passing MMJ laws and recreational sales coming online in Colorado.
As a result, an increasing number of lawmakers across the country are demanding cannabis banking reform as well.
Case in point: Earlier this week, the Denver City Council passed a proclamation urging the government to clear the way for financial institutions to work with cannabis companies. And just this morning, six Colorado state senators and representatives sent a letter to federal officials asking for a swift resolution to the banking situation.
These lawmakers followed the lead of the governors of Colorado and Washington – which recently asked federal financial regulators for change on this front. Two Congressmen also introduced a bill last year that would provide protections for banks that work with cannabis companies. The proposal now has 24 co-sponsors, including two Republicans.
States and cities with medical or recreational marijuana businesses have good reason to push for such changes. They want to create a stable, crime-free industry that can thrive and comply with local regulations. A lack of access to banking services makes it much more difficult to accomplish those goals.
The fact that a $1.5 billion industry – one poised to double its sales this year – doesn't have access to traditional banking services is ludicrous. The security issues of this all-cash industry are well documented. And then of course there's the logistical nightmares of payroll, accounting, paying taxes and vendors … the list goes on.
Is it really a good idea to have billions of dollars in cash floating around at retail stores? Shouldn't the government be working to ensure cannabis transactions are handled in the safest way possible?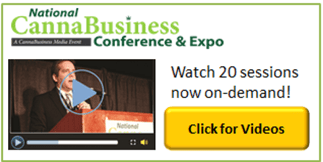 To be clear, the federal government – not the banks – shoulders all the blame. It's behind the move to effectively choke legitimate, state-legal, respectable cannabis businesses in an effort to rein in the industry's growth.
But the strategy hasn't worked very well. Sure, it has stifled the industry's expansion to some degree. But the cannabis business is growing at a rapid clip regardless, and the rise of state recreational marijuana laws coupled with new medical marijuana markets will generate billions of dollars in additional sales.
Fortunately, there are signs the Obama administration is ready to change its tune. A group of finance leaders, federal regulators and law enforcement officials recently discussed the banking situation in the marijuana industry, and the Treasury Department is reportedly set to issue guidance to financial institutions for working with cannabis businesses.
Reports also surfaced this week that some credit card companies are easing up on the industry.
At the same time, the financing side of the picture is improving in general as more investors pump money into cannabis businesses. The latest on this front: Two executives from High Times Magazine have formed a new private equity fund focused on the industry, aiming to raise $100 million.
With more lawmakers, mainstream companies and investors getting on board and the marijuana market set to grow exponentially, it's time for the government to remove the biggest barrier to the success of this promising industry.
Chris Walsh is editor of Marijuana Business Daily