By Chris Walsh
New CBD laws play an important role in a historic House vote, one medical cannabis bill sputters in California while a competing measure advances, and entrepreneurs discuss business opportunities in the nation's newest MMJ market. Here's a closer look at some notable developments in the cannabis industry over the past week:
CBD Laws Play Role in House Vote

Some observers have dismissed new laws in several states approving the use or research of cannabidiol (CBD) oils, saying the programs are too limited.
While that may be true, the laws could have an impact on a much larger scale.
Last night, the U.S. House of Representatives voted in favor of a proposal to prevent the government from interfering with businesses and patients in states that have legalized cannabis. It's a landmark vote, representing the first time the House has backed such a bill.
At least one advocacy group thinks that CBD laws played a big role in swaying some lawmakers.
"This year's huge vote increase can largely be attributed to the fact that lawmakers only recently began hearing the moving stories of the many children whose severe seizures are only relieved by marijuana," said Tom Agnell, chairman of the Marijuana Majority, a cannabis advocacy group. "Being able to list these CBD states in the amendment text meant that more members of Congress that represent these states voted yes than otherwise would have. Counting these states, 60 percent of the U.S. population lives in a place where state law disagrees with federal law."
More than half-a-dozen states now have laws that permit the limited use or research of CBD oils, and several others are poised to pass similar legislation.
As we've pointed out before, this type of legislation can help with future efforts to legalize medical marijuana on a broader level in a particular state. Now, it appears they can have an impact on the marijuana discussion at the federal level as well.
Lawmakers Vote on MMJ Regs

And then there was one.
On Thursday, the California Assembly effectively sunk one of two measures seeking to create statewide regulations and oversight on the cannabis industry.
Assembly Bill 1894 called for a new agency within the state's alcohol control division to set regulations on the industry and enforce those rules. It also would've allowed cities and counties to continue to craft their own MMJ regulations and even ban such operations, but businesses would not have to get local permits.
Despite some promising momentum and support from key leaders of the cannabis industry, the measure failed 26-31 in the Assembly.
Another bill to regulate the industry, however, sailed through the Senate by a vote of 31-0.
The proposal – Senate Bill 1262 – has the support of the California Police Chiefs Association and the League of California Cities, which have typically opposed regulatory measures in the past. The bill would put the Department of Consumer Affairs in charge of regulating the industry and force dispensaries and growers to get local approvals before getting a license from the state.
It now heads to the Assembly, where it could pass through a committee chaired by none other than Tom Ammiano, who sponsored the competing bill.
There's a good reason California – once the epicenter of all things marijuana – has lost its status in the industry. A lack of statewide regulations on MMJ businesses has created a chaotic, unpredictable and unattractive business environment for cannabis companies.
Lawmakers have failed to pass regulatory legislation numerous times in the past, in part because the industry has struggled to present a united front. Advocates also have had trouble bridging the gap with MMJ opponents lobbying for extremely strict rules.
Will this finally be the year that a regulatory measure passes? There's still a chance.
A Gold Rush, It Ain't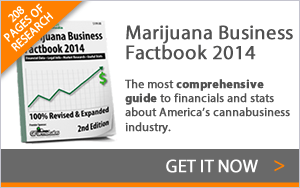 Industry veterans from mature medical marijuana states have flocked to Massachusetts and Nevada, with some establishing local offices and others partnering up with locals to vie for dispensary or cultivation licenses.
But don't expect many out-of-state cannabis entrepreneurs to get involved in the nation's newest medical marijuana market: Minnesota.
Cannabis businesses and industry consultants in other areas of the country say the program is too limited to warrant much attention – at least right away.
"I think the [Minnesota] program, as it's currently constructed, is not going to allow for a particularly viable business model," Kris Krane, a managing partner of 4Front Advisors, told the St. Paul Legal Ledger Capitol Report.
Heather Azzi of Minnesotans for Compassionate Care said several cannabis businesses that operate in other states have told her "they are definitely not going to take the risk to be the first entrants into this market."
Under the law, patients can only obtain cannabis in oil, vapor or pill form – dampening business opportunities.
The list of qualifying conditions is relatively limited as well: Just 5,000 patients are expected to be eligible to get MMJ cards. That amounts to a fraction of 1% of the state's population and puts Minnesota on track to have one of the smaller MMJ programs in the country.
The state will allow just eight dispensaries and two cultivation facilities. The initial law doesn't mention specific residency requirements for business owners or specify whether they must be nonprofits, though the state could weigh in on those issues during the rule-making process.
American Cannabis Company – a consultancy in Colorado – created a rough economic model based on an estimate that 2,500 patients will sign up for the program initially, according to the Capitol Report. With a projected consumption rate of 2.8 grams of oil per month at an average price of $45 per gram, the firm projects an operator would rack up $1.9 million in sales during the first six months the program is operational (assuming that the first dispensaries open as planned in July 2015). However, the operator would post a net loss of $225,000.
The longer-term picture is much brighter – with profits estimated in the first full calendar year of sales – so those willing to take the gamble now could benefit down the road.
But the near-term opportunities likely aren't attractive enough to trigger the type of green rush we've see elsewhere.