By Chris Walsh
Colorado continues to attract out-of-state cannabis operations, Canadian entrepreneurs clamor for cultivation licenses and a report examines Big Tobacco's interest in the marijuana industry.
Here's a closer look at some of the top business stories in the cannabis industry from the past week:
Cannabis Magnet

Entrepreneurs, cannabis organizations and existing marijuana companies are flocking to Colorado, hoping to capitalize on its thriving recreational market or simply establish a presence in the epicenter of the industry.
Just this week, the National Organization for the Reform of Marijuana Laws (NORML) opened its first-ever satellite office…in Denver. It now shares a building with WeedMaps – which relocated its headquarters to Colorado from California in late 2012.
Other cannabis-related companies have moved their headquarters to Colorado or opened divisions there recently as well, while hundreds of entrepreneurs from across the country have packed their bags and relocated to the state to start companies. At the same time, Colorado will play host to half-a-dozen cannabis-related business and investment conferences this year – vs. virtually none in 2013.
Justin Hartfield, the co-founder of WeedMaps, said his team decided to move the company to Denver even before the vote to legalize recreational cannabis because Colorado "was already a hub of innovation in the marijuana industry." He added that the for-profit status of the state's medical marijuana industry and the "generally smart laws" that regulators and industry leaders have adopted factored into the decision as well.
"Colorado has definitely been much more business friendly to the industry than say Washington, which also legalized marijuana but is still struggling with [creating] a workable arrangement between patients, government officials and business leaders," Hartfield said. "I've also met many smart entrepreneurs from places like New York, Boston and even Los Angeles that have moved their families to Colorado because of the legal business opportunities."
This is yet another benefit of strict regulations on the cannabis industry at a state level, something that California and some other markets don't yet have.
Green Rush in Canada
Canada is well on its way to creating a thriving medical marijuana industry.
As we reported this week, the country's health department has received nearly 900 applications for licenses to grow and distribute cannabis. At the current rate that applications are being submitted – about 25 a week – the total will surpass 1,000 shortly.
Under Canada's new MMJ program, licensed growers not only cultivate marijuana, they also distribute it to patients via courier services or mail.
The health department has only approved 13 applications so far – while rejecting 149 and returning several hundred more that were incomplete. That leaves roughly 300 applications still awaiting a ruling.
The country has not set a limit on how many licenses it will dole out, so theoretically there could be hundreds of cultivation sites. Whether that many can meet the regulatory requirements needed to obtain a license – or even survive if they do receive approval – is another question.
Several dozen large producers will likely dominate the market, with some medium-size and smaller growers possibly sprinkled across the country.
Still, it's clear that entrepreneurs – both in Canada and the United States – see plenty of potential in what is projected to eventually become a $1.3 billion market.
Beware Big Tobacco, Big Alcohol…Big Everything
Marijuana professionals have long feared that tobacco, alcohol and pharmaceutical companies will invade the cannabis industry and snatch away business from those who built up the sector.
It's a valid concern: A new report found that tobacco companies first explored developing cannabis products in the late 1960s and early 1970s, when it appeared the nation could legalize marijuana. Yet these companies denied their interest at the time.
The report concludes that Big Tobacco will be ready to enter the cannabis sector if and when the legal situation surrounding it shifts – even though these companies currently deny interest in the marijuana market (sound familiar?).
They'd be silly not to: The opportunity to tap a brand new industry with enormous potential comes along once a generation.
Cannabis sales will hit $2.1 billion t0 $2.6 billion this year and could surpass $8 billion by 2018, according to the Marijuana Business Factbook 2014. If the federal government legalizes marijuana or at least changes the law to clearly allow states to decide the issue, you can bet big companies from almost every industry will be looking at cannabis plays.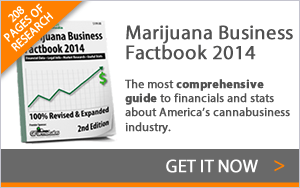 Along these lines, the Wine & Spirits Daily Summit – held this week in Denver – featured a panel on cannabis (which we participated in). We spoke with numerous professionals from the wine and alcohol industry at the event who are actively looking at the marijuana space and exploring how they can get involved.
It might not be long before you're competing against the Philip Morrises, Anheuser-Busches, Pfizers and Coca-Colas of the world.