By Chris Walsh
The nation's capital makes major progress on the marijuana front, two cannabis companies get aggressive with advertising and opposition to MMJ legalization grows in Florida.
Here's a closer look at several notable business-related developments in the cannabis industry over the past week:
Cannabis in the Capital
Washington DC is making waves in the marijuana industry – at least on a local level.
On Wednesday, officials confirmed that a measure to legalize marijuana for recreational use will appear in front of local voters this November. And last week, the mayor signed an emergency order expanding the city's medical marijuana program.
Both are significant in different ways.
If the legalization bill passes, there's a good chance Congress will move to prevent recreational marijuana from taking root in DC.
But it would be the ultimate symbolic victory for the industry given that Washington DC is the seat of the federal government. It would also send yet another message to lawmakers that the country is ready for legalization – or at least ready to let states chart their own cannabis course.
The new medical marijuana rules are hugely important and will have an immediate impact.
Under the expanded regulations, physicians can recommend marijuana-based treatments for any debilitating condition that they believe will benefit from medical cannabis. Cultivators can also grow up to 500 plants – a five-fold increase from the original limit.
The rules are temporary, but the city council is expected to make them permanent when it reconvenes next month.
These new regulations will help boost the city's patient base – which is currently so small that dispensaries and cultivators are finding it hard to survive – and ensure that the industry can provide enough marijuana to meet that increased demand.
Jeffrey Kahn, founder of the Takoma Wellness Center dispensary in DC, said the "phones are ringing off the hook" with calls from patients.
"We're excited about the changes to the law," Kahn told Marijuana Business Daily. "The cultivators have already begun to expand from 95 to 500 plants. We're seeing the patient count grow by leaps and bounds. Today, we have more than 500 patients registered to Takoma Wellness. On May 15, it was just 75."
Aggressive Advertising
Two companies are pushing the envelope when it comes to cannabis advertising:
– Dama, which makes a line of cannabis oils and infused products, revealed plans this week to run ads on more than 15 billboards throughout the Seattle area. What's more, the Washington-based company will advertise via a 3,000-foot banner towed by an airplane above the Seattle Seahawks preseason NFL game next week and the upcoming HempFest.
Marijuana companies have used billboards and even aerial banners in other markets, but Dama's campaign represents one of the first times a recreational cannabis company has advertised via these methods in Washington State.
There are some issues, however. It's unclear if the ads violate the state's advertising restrictions, which prohibit cannabis ads within 1,000 feet of schools, parks and daycare centers. And the company's billboards might not meet other requirements over certain statements that must be included in ads.
– Another Washington State company – the dispensary and strain review site Leafly – ran a full-page advertisement in the New York Times last weekend. It reportedly marked the first time the newspaper has published an ad from a marijuana-related business.
Marijuana companies have been advertising in alternative weekly newspapers for years, and some metro newspapers in certain markets accept cannabis ads. But we haven't really seen many – if any – ads for marijuana products and services in large national publications, until now.
This could open the door for other national newspapers to consider ads from cannabis businesses.
2 Groups Oppose FL Legalization
The marijuana movement has a ton of momentum in Florida, but a growing number of opponents are emerging as the election nears.
This week, two influential groups came out against legalization: the Florida Medical Association and the Central Florida Hotel & Lodging Association .
The medical association – which represents 20,000 physicians in the state – raised issues with what it says is a weak regulatory structure, an "unsafe" distribution method and the potential for abuse by users.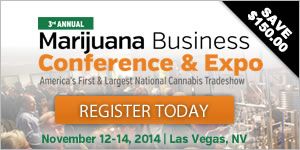 The lodging group, which represents most hotels in tourist-heavy central Florida (including those near Disney World), also said it opposes the legalization measure because MMJ doesn't fit with the state's brand.
Advocates aren't sweating yet because MMJ legalization still seems immensely popular with voters.
Attorney John Morgan, who is bankrolling much of the advocacy efforts around the bill, had a classic response this week to the hotel group's opposition.
"When this group takes a position on removing XXX porn movies from hotel rooms and hidden charges to unsuspecting guests, I will take them seriously," Morgan told the Orlando Business Journal.
Yet the opposition is cause for worry. Other prominent groups might come out against the measure in the coming weeks, which could erode support.