By Chris Walsh
Marijuana is all over the news these days.
You're just as likely to come across a story on the cannabis industry in the Wall Street Journal or on CNN as you are in small community newspapers and TV stations in the heartland of America.
This week alone, dozens of media outlets covered daily developments on everything from Florida's medical marijuana legalization push and the latest favorable cannabis poll, to marijuana billboards near the Super Bowl and the first licensed cultivation operations in Connecticut. Others ran features on the top marijuana websites (TheStreet.com), the growing acceptance of cannabis (Christian Science Monitor) and the industry's banking issues (Politco).
This is having a real-world impact on the cannabis industry.
The mainstream media's intense coverage of all things cannabis not only reflects changing attitudes about marijuana in the United States, it's also helping to accelerate that shift. The coverage has brought marijuana into homes and executive suites across the country, sparking conversations, spreading awareness and spurring debate among everyday Joes and politicians alike.
With that comes increased business opportunities as:
a) More states and communities start to accept cannabis
b) More people consider trying marijuana for medical or recreational reasons
c) More investors, professionals and entrepreneurs take the industry seriously
In a nutshell, the media is helping to move the marijuana business into the mainstream.
It's no longer shocking to see a marijuana leaf on the nightly news or the front page of the daily paper. Marijuana is less exotic – and, just as importantly, less scary – to the general public than it was just a year ago.
As a result, we're seeing the demystification of marijuana.
Forget Cheech and Chong or Harold and Kumar. Business professionals, big-time investors and risk-taking entrepreneurs are becoming the face of the industry. Marijuana is creeping into conversations around the dinner table and over drinks with colleagues.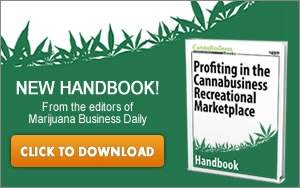 In many cases, the media is simply reacting to a heavy volume of news that affects their readers. But there's no doubt that media outlets also feel much more comfortable covering the subject in general than they did just a year or two ago.
As an aside, I come from the mainstream media, having worked at daily metro newspapers for more than a decade before helping to launch this publication. Marijuana – as a major business story – wasn't really on the radar of most reporters until recently, even in states with dispensaries. It was still a subject that elicited chuckles in newsrooms, on par with covering something like the business of strip clubs (which I did once in fact write about).
Now, most of my former colleagues and acquaintances at newspapers, magazines and TV stations have covered a marijuana-related story. Reporters cover the industry as a beat, and one newspaper even created a whole new online site solely for marijuana news and information.
What's more, most of these pieces in the mainstream media and financial press take the issue seriously – a big change from the past. While some stories focus on controversy or take a slanted look at cannabis businesses, many actually paint the industry in a positive light.
At the very least, the mainstream media is keeping the conversation front and center. That is helping to change attitudes and laws, which all adds up to a bright future for the industry.
Chris Walsh is editor of Marijuana Business Daily