By Chris Walsh
A medical marijuana drive fizzles out in Oklahoma, support for recreational cannabis legalization slips in Alaska and the second retail store finally opens in the Seattle area.
Here's a closer look at several business-related developments in the cannabis industry over the past week:
Lessons Learned in Oklahoma
Cannabis advocates in Oklahoma led a valiant effort to get a medical marijuana legalization measure on the fall ballot. But in the end they came up well short of the goal.
The state announced this week that it was able to verify just 74,400 signatures turned in by the campaign, or less than half the number needed to get the measure in front of voters this November.
It was an uphill battle from the start.
"We were not a well-known organization and that hurt us pulling support from more traditional organizations" such as the national offices of NORML and the Marijuana Policy Project, Chip Paul, who heads the organization behind the legalization effort, told Marijuana Business Daily.
Paul said the group had a lot of momentum in Tulsa but didn't gain as much traction in Oklahoma City, which is the largest municipality in the state with roughly 600,000 residents.
"This is where a lack of funds really hurt us," he said, adding that only a quarter of all signatures gathered statewide were from voters in the city.
Paul said he learned that more funds are needed to mount a serious legalization effort.
He also said a mobile "tent revival"-style tour the group started towards the end of the signature-gathering campaign was more successful than envisioned, and that advocates will employ the strategy much earlier when they make another legalization push next fall.
"I wish we would have started [that] earlier," Paul said.
Discouraging Poll in Alaska
The most recent poll about recreational marijuana legalization in Alaska is a bit disheartening.
As we wrote earlier this week, Public Policy Polling (PPP) found that just 44% of voters it surveyed earlier this month would back the state's legalization measure if the elections were held at that time.
According to PPP's polls, support has been eroding significantly throughout the year – from 55% in February to 48% in May to 45% most recently.
But there is a caveat, supporters say.
Public Policy Polling phrased the question differently in its last two surveys than it did at the beginning of the year.
In the poll conducted on Jan. 30 and Feb. 1, it asked: "Do you think marijuana should be legally allowed for recreational use, that stores should be allowed to sell it, and that its sales should
be taxed and regulated similarly to alcohol, or not?"
In the next two polls, however, it asked: "On the November ballot, there will be an Alaska Marijuana Legalization Measure. This would allow people age 21 and older to possess up to one ounce of marijuana and up to six plants. It would make the manufacture, sale, and possession of marijuana paraphernalia legal. If the election was today, would you vote 'yes' or 'no' on this measure?"
Rob Kampia of the Marijuana Policy Project, which is involved heavily in the legalization campaign, took issue with the wording of the most recent polls, calling the one conducted earlier this month "garbage."
"The PPP poll question wasn't even close to the language that will appear on the Alaska ballot," Kampia said, adding that he is rarely this critical of polls. "For example, the poll question didn't mention 'taxing' or even 'regulating' marijuana. On the other hand, the poll question bizarrely focused on legalizing 'paraphernalia.'"
Kampia said a poll MPP conducted this summer of 787 likely voters found that 51% were in favor vs. 47% opposed. That poll, he said, mirrored language that will appear on the ballot.
Regardless, it looks like this one will be a nail-biter. And the stakes are as high as ever.
"While most people don't care about Alaska, everyone seems to agree that we cannot afford to lose a statewide legalization vote just two years after the twin victories in Colorado and Washington," Kampia said. "We absolutely must win in Alaska, lest reporters declare the legalization movement to be backsliding."
'Bout Time
On Monday, the second retail cannabis store in the Seattle area opened its doors to the public – 48 days after the first one.
The shop could've opened earlier. But a spokeswoman said the store wanted to ensure it built up enough supply to stay open consistently – unlike the first store in Seattle, which quickly ran out of inventory and had to close temporarily.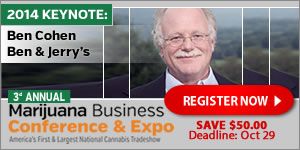 Washington's recreational cannabis industry is off to as slow of a start as anyone could have predicted, particularly in Seattle. Only about two dozen shops are open across the state, even though Washington will eventually license more than 300.
The delays have led to a distorted view of the market, making it difficult to truly assess demand and potential revenues for the industry.
Fortunately, other stores should be opening soon as more supply comes online.
Chris Walsh can be reached at Chrisw@mjbizmedia.com