By Chris Walsh
Dispensaries in Michigan get some good news, medical cannabis delivery services thrive in two cities and the U.S. House gives marijuana businesses a shot in the arm.
Here's a closer look at several developments in the cannabis industry over the past week:
Michigan Bills Gain Traction

Michigan basically disappeared from the national MMJ radar earlier this year, with its industry keeping a low profile amid a shaky legal climate and lawmakers putting MMJ issues on the backburner.
That changed Wednesday.
A Senate committee finally took up two bills that are beneficial to the medical marijuana industry, approving both and thereby advancing them to the floor for a full vote.
It's the first real MMJ news out of Michigan in months.
The measures passed through the House by a wide margin at the end of last year, stoking hopes that Michigan would establish workable regulations on its MMJ industry. But they languished in the Senate until this week.
The bills are key to reviving and stabilizing the state's medical marijuana industry, which has taken some huge hits in recent years. One bill would allow dispensaries to exist under the law, while another would approve the sale of edibles and other infused products.
While the Senate progress is positive, there are a few caveats:
– It could be another two months before we see a vote on the bills – and possibly even longer.
– The Senate majority leader indicated that the bills will undergo significant revisions before coming up for a vote. It's unclear what the changes will entail, but the Senate will likely look to add a host of regulations, including everything from location restrictions on dispensaries to testing for infused products.
– The bills still face strong resistance from several influential law enforcement groups and the state's attorney general, who has been a huge opponent of the industry.
Regardless, marijuana is back in the spotlight in Michigan, and there's at least some hope that lawmakers will pass meaningful legislation this year.
Delivery Services Thriving
Marijuana delivery has become big business in several cannabis markets.
A handful of cities have seen a noticeable spike in the number of mobile dispensaries as of late, even though the businesses are skirting laws in the process.
In Los Angeles, some dispensaries that are now deemed illegal have transitioned to delivery to bypass the new regulations. Their new business model isn't allowed under the new rules, either, but law enforcement is focused on targeting illegal storefronts rather than delivery services.
In Seattle, companies delivering recreational marijuana are burgeoning as the state's retail industry faces inventory shortages, while Denver also has seen a sharp rise in individuals and companies offering delivery via Craigslist postings. Delivery businesses are banned in both states.
These aren't all just dinky one-man operations operating from a basement, either.
A marijuana delivery service in Seattle called Winterlife now employs 50 workers and handles 400-600 calls a day, while Speed Weed in Los Angeles has 25 drivers and several offices.
What's perhaps most surprising is how bold these companies have become. Several spoke openly with the media and used their real names – a huge departure from just a few years ago, when even state-licensed dispensaries feared the spotlight.
Perhaps the prevalence of these services will spark serious discussions about whether delivery should be legalized to thwart the black market.
But it also could lead to even more rules on the industry and cannabis companies already complying with the law – as we've seen countless times in markets where businesses openly defy regulations.
Three Cheers for the House

The U.S. House of Representatives deserves heaps of praise for advancing the marijuana discussion on Capitol Hill.
Earlier this week, it passed a key cannabis banking bill and also shot down another measure that would have thwarted recent marijuana-related guidance issued to financial institutions.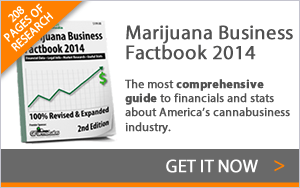 While the industry won't see any immediate, concrete changes from these moves – the banking bill still needs to clear the Senate, after all – it's important for another reason.
Medical cannabis has broad support across the country, and it now seems federal lawmakers are finally listening to their constituents.
The House is clearly leading the way on a federal level when it comes to marijuana, which could help convince the Senate to get on board with reforms that benefit cannabusinesses, too.
It's hard not be optimistic about the situation. Real change could be just around the corner.