By Chris Walsh
A former state governor and an ex-Monsanto executive enter the medical marijuana industry, Massachusetts cannabis entrepreneurs learn some tough lessons and Washington prepares for the start of recreational sales.
Here's a closer look at some business-related developments in the cannabis industry over the past week:
Public Companies Bolster Their Ranks

The list of notable mainstream professionals who have entered the cannabis industry seems to grow by the day, with everyone from former high-tech executives to ex-DEA agents to casino magnates getting involved.
Now, we can add two more names to the list: Former New Mexico Gov. Gary Johnson and John C. Hunter III, who worked in executive roles at agricultural biotech giant Monsanto for several decades
Both have taken positions with publicly traded companies.
Johnson joins Nevada-based Cannabis Sativa Inc. as chief executive officer, while Hunter has agreed to sit on the advisory board of United Cannabis Corp.
The moves bring some credibility to the marijuana sector – and particularly to the realm of publicly traded cannabis companies, which as a whole have some serious work to do to gain the confidence of investors and the industry.
If the two companies gain traction and avoid controversy while Johnson and Hunter are on board, it could help change the perception of cannabis stocks and even convince other influential individuals to get involved.
On the other hand, if the companies falter or run into serious issues, it could set publicly traded firms back even further.
More Lessons From MA
Scores of entrepreneurs in Massachusetts are frustrated with how the state's dispensary licensing process played out.
The latest disgruntled group: Nine applicants that had a license within reach, only to have it yanked away at the last minute. The state initially granted preliminary approval for licenses to these groups but then booted them from the process after further vetting.
We spoke with several applicants and consultants for a piece earlier this week about what's next for the Massachusetts MMJ market. Several shared some lessons the industry can learn from the ordeal:
– Spend more time educating government agencies on the challenges posed by federal banking limitations, said John Greene, founder of Greenway Wellness Foundation, one of the companies that was rejected after receiving a provisional license.
The state eliminated Greenway because the company appeared to have insufficient funding, but Greene said he was forced to return capital to investors after multiple banks refused to take his money. The business still has access to the funds, Greene said.
"[Officials] need to create some leeway on banking for groups that run into these issues," Greene said. "Otherwise how can we expect to be transparent with banks?"
– Choose your partners carefully, whether they be local business professionals, political consultants or government officials, said Andrew DeAngelo, whose Green Heart Dispensary was among those denied last week.
"We saw a lot of issues in the applications, especially with those denied," said DeAngelo, who is also an executive at Harborside Health Center in Oakland. "We saw people get in bed with the wrong people or they didn't fully vet the people they were with."
– Focus on building support in the community where you plan to locate, and then be absolutely certain local officials back your plan before submitting applications, said Scott Hawkins, a consultant who works with several successful applicants. Hawkins also said entrepreneurs should avoid spreading themselves thin by submitting too many applications.
Washington Ready for Rec?
More than six months after retail marijuana sales began in Colorado, the nation's second recreational cannabis market is ready to launch. The first crop of cultivators and stores in Washington State are gearing up for July 8, when recreational sales are slated to start.
But there's growing concern that the industry won't be able to meet what's expected to be enormous demand.
Earlier this week, we reported on how one of the only licensed labs in the state had received just two samples to test. The lab warned of a huge backlog if growers and retail stores wait until the last minute to get their products tested, which could lead to inventory shortages.
At the same time, delays in licensing edibles companies mean there will be very few infused goodies on store shelves next week.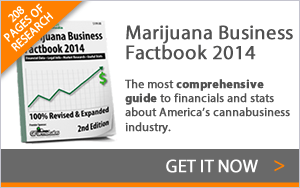 Talk about deja vu: Colorado stores began running out of product just days after sales began, and some were forced to temporarily close to rebuild inventory. Many shops also faced severe edibles shortage due to huge demand.
It seems Washington State will encounter similar challenges, and in fact the inventory problems could be even worse.
So much for learning lessons from those who have been there before.