By Chris Walsh
Colorado passed another crucial cannabis test last weekend, and it couldn't have come at a better time for the state's fledgling recreational marijuana industry.
The annual 4/20 holiday went relatively smoothly in the first state to legalize recreational marijuana. Not necessarily from an operational standpoint – long lines at the Cannabis Cup led to numerous complaints – but certainly when it comes to the behavior of recreational cannabis consumers who gathered at a rally downtown and other related events to celebrate.
The weekend turned out like everyone involved in the cannabis business expected: "mainstream and mellow," as a headline on Al Jazeera America's website put it.
And profitable, too. Cannabis commerce was alive and well, with companies reporting brisk business. In fact, many marijuana businesses raked in record sales, which will equate to a surge in tax revenue for the state.
This all led to some positive PR for Colorado's fledgling recreational cannabis industry, which entered the weekend under a cloud after several unfortunate events involving edibles.
Sure, some people might be put off by the sight of tens of thousands of stoners gathered together all at once, smoking marijuana in public despite a ban on doing so. Authorities did issue several dozen citations for public consumption, and several people were taken to detox.
But the same thing happens at sporting and alcohol-related events all the time, and anyone who was expecting that no one would light up is way out of touch.
What's notable is that there were no serious incidents involving marijuana use, despite heavy consumption and an intense media spotlight on 4/20 events. This sends a message to the rest of the country: legalized marijuana doesn't create chaos, even when large crowds gather and consume it.
On the business side, 4/20 offered the world a window into the possibilities this industry holds going forward.
We'll get a better idea of the extent of 4/20-related commerce when the state releases tax data for April in the summer. But it's clear that the economic impact – especially when considering the influx of tourists – was huge. That could help convince politicians in other states to get on board with marijuana legalization.
Additionally, organizers of the main rally downtown put on a much more professional event than in the past, which further boosts the credibility of the industry as a whole. Long lines formed at the dozens of cannabis companies (such as Leafly and drink manufacturer CannaEnergy) with vendor booths, and some businesses gave out product samples to the crowd. The atmosphere felt similar to other mainstream events that occur in downtown Denver on a regular basis.
Last weekend could have been a recipe for disaster.
The industry was already under the microscope after a man shot his wife after consuming infused candies and a tourist jumped to his death from a hotel balcony after eating a marijuana cookie, which fueled criticism of marijuana businesses and legalization in general.
A few images of incapacitated tourists who scarfed down high-potency edibles being rushed to emergency rooms or committing serious crimes – or the type of shooting that marred the 420 gathering in Denver last year – would've increased scrutiny on the industry at the worst possible time.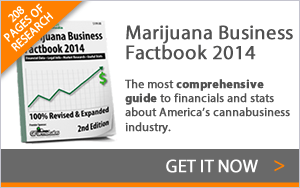 Instead, the ambulance sirens remained silent, and the scores of police and reporters on hand seemed a bit bored. The recent incidents involving edibles can be seen for what they are: isolated, and not necessarily directly tied to cannabis.
While Colorado and other states do need to address some issues tied to edibles, the responsible use of cannabis by consumers last weekend could go a long way towards easing recent concerns over legalized marijuana.