If you have been paying attention to the California cannabis market recently, you have heard about the credit crisis many suppliers are dealing with.
Not only do marijuana-related operators in the state owe more than $250 million in unpaid taxes – a primary reason for small-business failure in corporate America – but they also are owed millions of dollars in accounts receivable (up to $600 million) from other cannabis-related businesses.
Because of this, a coalition of marijuana firms in California is trying to pass Assembly Bill 766, which would require cannabis licensees to pay for bills for good or services totaling $5,000 or more within 15 days of the final date listed on the invoice.
The passage and enforcement of this bill would be a major help to California cannabis companies and ensure that the current credit crisis doesn't happen again.
But, first, the bill must pass and then be implemented, which could take years.
Timing is essential
What should marijuana-related businesses do today if they have customers that are seriously delinquent?
As I wrote previously, when you have a customer that is past due and not communicating with you, it's time to engage a third-party collection partner to help get you paid.
Why? As you can see from the graph below from the Commercial Collection Agencies of America, every month that you hold on to nonpaying debt significantly reduces the probability of collection.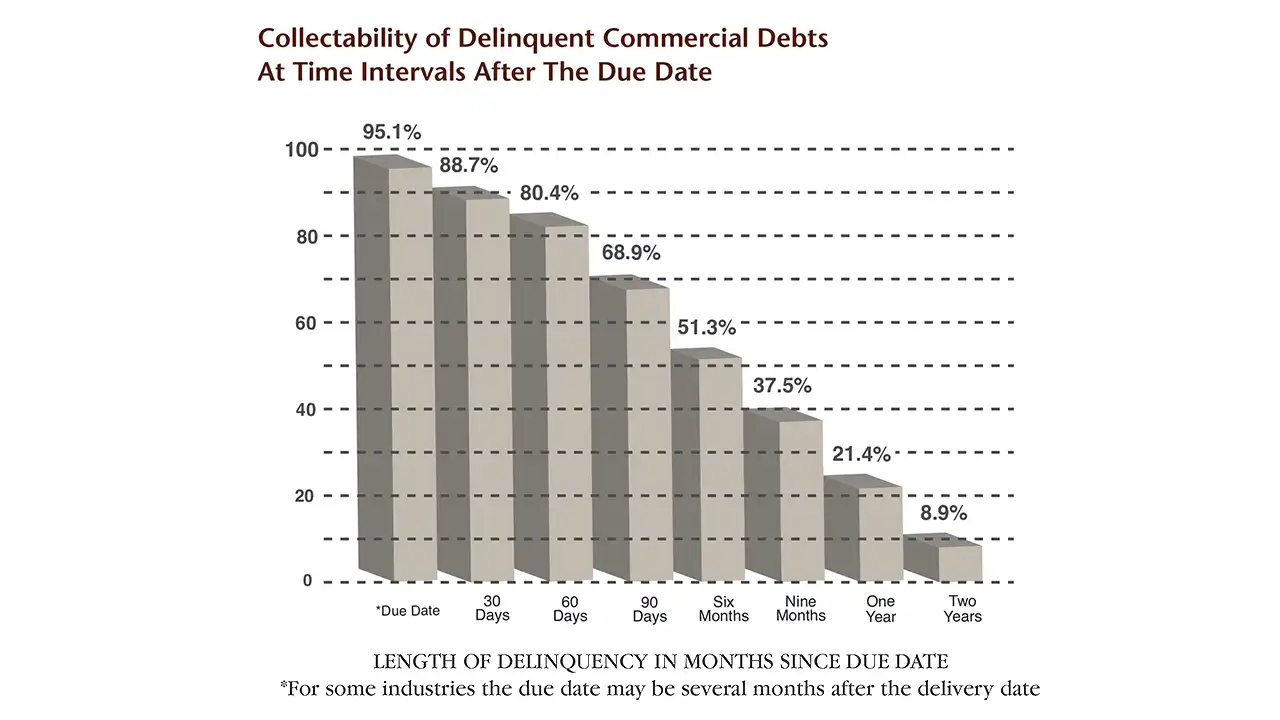 Here are four primary reasons why you should consider sending your delinquent customer to a third-party collection agency:
1. The customer is more than 60 days past due
The customer has been a solid citizen and always paid on time. You have transitioned them from paying you cash on delivery (COD) to limited credit terms.
But now, they are 60 days past due, and this is not the first time it has happened. They answer your calls and promise payments but don't follow through.
So, what should you do?
Chances are good that you have a problem, and, depending on how much the debt is and how old it gets, turning them over to a third-party collection agency will apply a level of focus to collection efforts that will greatly increase the chances of your company getting paid.
2. The customer is not returning your calls
If your customer is past due and ducking you, you have a problem.
If they won't talk with you after repeated attempts to reach them – by phone and by email – and their debt is 60 days past due and getting older, a collection agency might be your only solution.
A collection agency works to get your customers to pay their outstanding bills. That's what they do for a living.
A collection agency's job is also to help repair the relationship and get your customer to start paying and, maybe, even purchase again.
3. The customer has stopped buying
If a customer owes you money, is not returning your calls and emails and has stopped purchasing new products, you need to be on alert.
For whatever reason, if the customer no longer needs you, they don't have a reason to be a prompt payer, as they now need those funds to purchase from other suppliers.
If they go 60 days past due, are not responding to your calls and have not tried to place any new orders, you are probably going to need outside help from a collection agency to collect your money.
4. You receive negative trade information on the customer from other suppliers
In this example, the account is not past due – yet.
However, you receive some negative trade information on the account from other suppliers who also are selling to them.
This needs to be checked carefully. When a company gets into financial trouble, it starts allocating available cash and prioritizing vendors.
Its primary vendors might not see a problem, but the secondary suppliers are going to start experiencing payment issues.
If your customer is not paying other suppliers, you might be next.
Getting paid
The collections industry is one of the oldest in America; it has been around to help creditors collect from their customers when they cannot.
The escalation effect works, but the focus that collection agencies place on the accounts also has a significant impact.
Collection agencies employ "career collectors" who understand how to negotiate with debtors to get them to pay what they owe.
What's more, the fees that collection agencies charge (typically around 20%) is minimal compared to the potential losses cannabis companies can incur due to non-payment and eventual write-offs.
Sam Fensterstock is the senior vice president of business development at Melville, New York-based AG Adjustments (AGA), a global provider of third-party commercial collection services with a focus on the cannabis market. You can reach him at samf@agaltd.com.
To be considered for publication as a guest columnist, please submit your request here.