One year after a hurricane devastated the island of Puerto Rico, medical cannabis businesses are reporting a remarkable turnaround from a storm that is believed to have left nearly 3,000 people dead.
The U.S. territory's medical marijuana patient pool is increasing and prices for cannabis flower are leveling off after Hurricane Maria ravaged Puerto Rico's MMJ businesses and crop.
MMJ cultivation, manufacturing and retail facilities were destroyed, and companies racked up millions of dollars in damages.
Many of the island's cannabis businesses lie in the potential path of hurricanes, and that's a good reason to pay attention to what occurred in Puerto Rico – especially because a giant storm is currently heading toward the U.S. East Coast.
Hurricane Maria killed an estimated 2,975 people in Puerto Rico and wiped out most of the island's infrastructure. It made landfall on Sept. 20 after forming on Sept. 16, 2017, in the Atlantic Ocean.
Here's what the destructive storm meant for the U.S. territory's fledgling MMJ businesses, and what the industry there has experienced since the storm:
Medical cannabis companies suffered millions of dollars in damage in leveled greenhouses, lost business and rebuilding costs.
Progress in Puerto Rico's nascent MMJ market was set back by at least six months, according to industry watchers, in part because businesses had to start their crop from scratch and rebuild destroyed facilities.
The program looks to have regained its footing and is steadily rebuilding its patient pool, and the supply of cannabis is catching up with demand.
"We are doing pretty good considering that we needed to start from zero after the hurricane," observed Goodwin Aldarondo, a San Juan-based cannabis attorney and CEO of Puerto Rico Legal Marijuana.
The island now has more than 90 MMJ businesses in operation, including 54 dispensaries.
About 34,000 patients have signed up for the program, up from about 12,000 last year, according to industry experts. They also say it's expected the total could hit 50,000 by the end of 2018.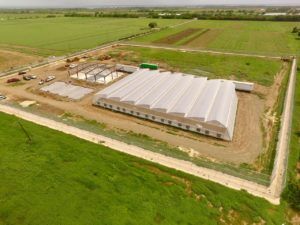 Maria wiped out a significant portion of the MMJ crop, causing a shortage in medicine and a spike in prices.
Before June, for example, a pound of wholesale cannabis flower sold for $3,500-$4,500. But since then, the average price has fallen to $2,500 a pound or less, according to Aldarondo.
Aldarondo expects the prices to fall even further as more cultivators come online and release product onto the market this month through October.
Flower for vaporizing is retailing for about $12-$20 a gram in dispensaries.
When supply was at its lowest, dispensaries were even selling trim directly to customers for vaporizers, which is unusual in the cannabis industry. A pound of trim – which is less desirable for vaping – was selling for $1,200 wholesale and $7 a gram in stores, Aldarondo reported.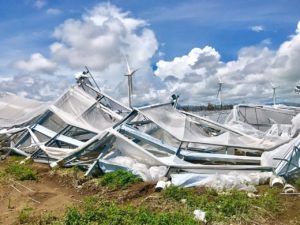 The greenhouse option
Mariela Quinones, vice president of business development for Encanto Giving Tree, an MMJ business with a greenhouse and manufacturing site in Santa Isabel and four dispensaries across the island, had to rebuild after the hurricane.
The storm wiped out the firm's greenhouse and manufacturing site, costing the company roughly $1.5 million to rebuild.
Quinones said the company is taking a different tack this time. Instead of rebuilding with one large greenhouse, the company is constructing two smaller structures made from galvanized steel that can be taken down quickly.
"Therefore, if a hurricane comes we can dismantle them," she said.
Her team also built a bunker room to safeguard equipment and plants in the event of another storm.
She expects to begin growing soon and to have her dispensaries open this December.
Many of the cultivation facilities in Puerto Rico are indoor operations, but Encanto Giving Tree decided to go with a greenhouse because the cost of electricity is so high on the island. Electricity can range as high as two to three times more expensive than what it costs on the mainland United States.
Backup power supply
Knox Medical, a Florida-based medical marijuana company, has two facilities in Puerto Rico – a cultivation and processing center in Barranquitas and a dispensary in San Juan.
During the hurricane, the company was in the process of finalizing construction at its cultivation and processing facility. In the immediate aftermath, the company was forced to take stock and develop a new timeline, said Knox Medical spokesman Scott Klenet.
"It wasn't too long of a setback," Klenet reported. "But certainly we had to take a minute to make sure everything was still in place."
Despite the problems caused by the storm, the company was able to get back up and running by the beginning of the year.
A steady electricity supply was an issue at first, so the company ran generators for backup – "just to ensure there was a continuous supply of electricity for the lab and extraction equipment," Klenet said.
'Making money'
While the hurricane has been costly for the island, some are positive the infrastructure, once it's rebuilt, will be better than before.
The government plans to spend $139 billion to recover from the damage caused by both Hurricane Maria and Hurricane Irma, which hit the island before Maria.
The quality of the infrastructure is going to be "a thousand times better" than before the storm, said Walter Marrero, a Dorado, Puerto Rico-based attorney with Colorado's Hoban Law Group.
Things continue to improve, and right now there is plenty of product in the dispensaries, according to Marrero.
"They're making money," he added.
But customers are asking for a greater variety of products, including more edibles and inhalers beyond the flower for vaping. The available products are still limited because it has taken the manufacturing facilities time to ramp up production after the storm.
The New York Times – citing data from Puerto Rico's Bureau of Transportation Statistics as well as from a government survey of airline travelers – reported that nearly 280,000 fewer people were living on the island in February than in September 2017.
However, Marrero said most of the people who left the island after the storm were 25-54 years old and the majority of MMJ patients are older than 55.
There has been some success with reciprocity from MMJ cardholders visiting from the mainland, but several people said the Puerto Rico government could do more to promote the program.
Although Marrero said he hasn't seen an increase in investment from mainland cannabis companies, he believes the business climate is "perfect."
"If you have the money and the resources to do it, there's the platform and the opportunity," he concluded.
Bart Schaneman can be reached at barts@mjbizdaily.com