The volume of dried adult-use cannabis sold in the regulated Canadian market fell in January while inventories continued to build, according to the latest data from Health Canada.
In January, 5,330 kilograms of dried cannabis was sold through regulated channels across the country, down 4.5% from December 2018.
Inventories of "finished" dried cannabis held by federal license holders, wholesalers and retailers rose 4.5% to 19,500 kilograms. Health Canada defines finished inventory as cannabis held in stock that is ready for sale.
That means inventory of dried cannabis that's ready for sale outpaced sales by a ratio of about 4:1 – a figure that contradicts the claim by most provincial regulators that the regulated market has a shortage of cannabis.
Industry experts say, however, that the shortage seen in the regulated market is not necessarily reflective of the totality of cannabis available for sale, but in the particular products consumers want to buy.
Ontario cited a "national shortage" of regulated cannabis when it scaled back the rollout of brick-and-mortar outlets late last year to 50 across the province.
The province is yet to announce how it plans to grow the network to the 500-plus stores experts say is the minimum needed to meet demand in what is supposed to be the largest cannabis market in Canada.
The data does not differentiate between inventoried cannabis for medical or nonmedical use.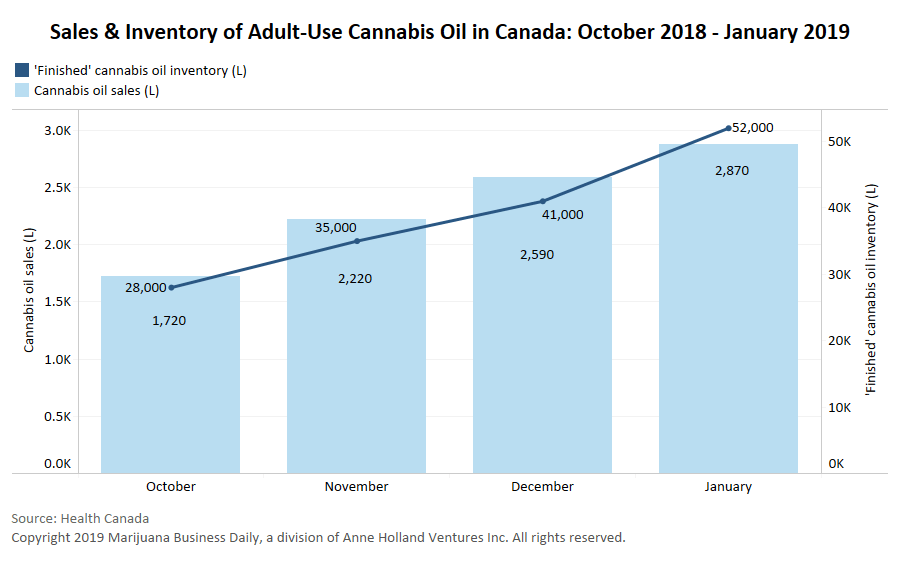 Oil sales, inventory rise
While the volume of dried adult-use cannabis sold in the regulated market has been relatively flat since Canada legalized adult-use marijuana in October, sales of oil have grown steadily.
The Health Canada data shows that sales of nonmedical cannabis oil have grown every month since October when 1,700 liters were sold. That figure rose to 2,200, 2,500 and 2,800 liters in subsequent months.
At the same time, inventories of finished cannabis oil held by federal license holders, wholesalers and retailers sky-rocketed from 2,600 liters in October to over 19,000 liters in January.
Health Canada licensed 93 new cannabis sites in the 18 months through January, regulators said, more than double the amount it approved in the previous four years.
Canada's health department also said that, as of January, all federally licensed facilities could collectively produce 800,000 kilograms of marijuana once at full capacity, "enough to meet the estimated demand for both legal and illegal cannabis."
Matt Lamers can be reached at mattl@mjbizdaily.com
To sign up for our weekly international cannabis business newsletter, click here.