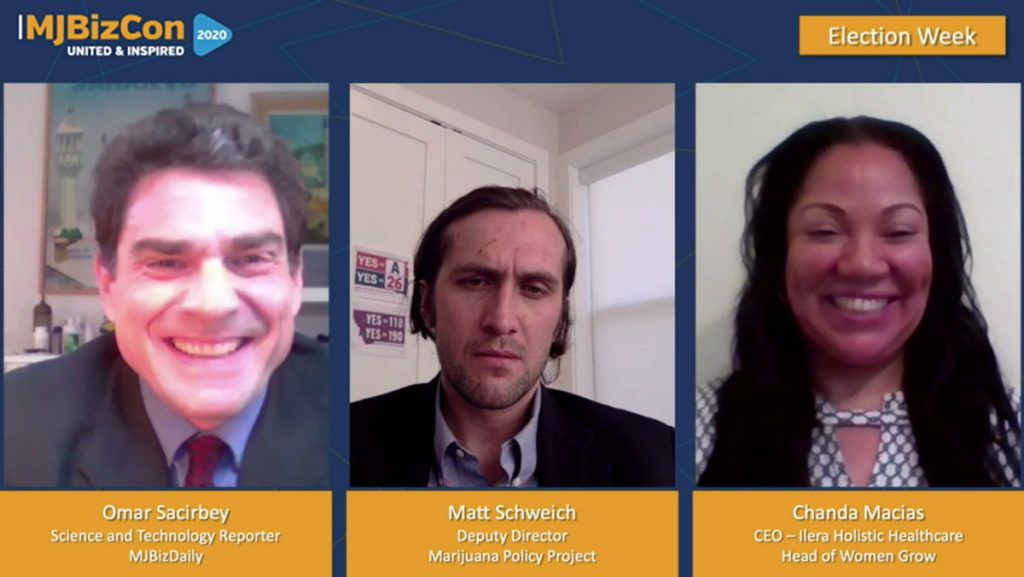 Learn more about the state of the industry at MJBizCon 2020.
The U.S. general election on Tuesday proved that cannabis legalization is popular across vastly different regions of the country – provided it makes it to the ballot box, industry experts said.
Speaking on an election panel Wednesday during
Marijuana Business Daily
's
Passholder Days Forum
, Dan Pabon, chief government affairs officer for Denver-based vertically integrated cannabis company Schwazze, said "cannabis is becoming less and less of a partisan issue."
"If cannabis can serve as the uniter on these issues, perhaps we have a pathway forward where we can find common ground on both sides of the aisle," he added, referring to Democrats and Republicans.
Overall, the marijuana industry secured big wins on Election Day as voters in five states legalized medical and recreational cannabis.
But the results of the federal elections remain murky in terms of what will happen in the U.S. Senate and who will win the White House – President Donald Trump or former Vice President Joe Biden.
Pabon noted that with the five marijuana legalization victories, congressional lawmakers in those states will have "more cover on this issue than they had previously."
That could help further the cause for federal legalization of medical and/or recreational marijuana.
The panel agreed that both federal banking reform for cannabis companies and changing Section 280E of the federal tax code will largely depend on the likelihood of the Democrats flipping the Senate, which appears increasingly unlikely.
Below are summaries of what the panel said about the five state initiatives:
Matt Schweich, deputy director of the Marijuana Policy Project, agreed that the state could be a domino and cause others in the region to legalize recreational marijuana, including New York and Pennsylvania.
"The alternative is New York and Pennsylvania are senselessly donating millions of dollars to the Garden State," he added.
Schweich pointed out that Arizona is more of a purple state in terms of Republican and Democratic voting habits, which "speaks to the fact that marijuana reform can win in every country."
He added that the state's medical marijuana is well-developed, which should lead to a smooth transition to recreational sales.
The new law allows only Montanan residents to own recreational marijuana businesses, a licensing structure that has resulted in legal challenges elsewhere, including in Maine.
Schweich said the initiative was drafted to appeal to voters, despite those "legal question marks."
"This is the smart way to do it," Schweich said of voters' approval of both medical and recreational marijuana.
He added that there's "no rational reason" why a program must begin with medical marijuana sales before moving to recreational cannabis.
"That transition is fraught with challenges," he added.
Chanda Macias, CEO of Louisiana-based Ilera Holistic Healthcare and head of cannabis professionals group Women Grow, said the legalization of medical marijuana picks up on trends seen elsewhere in the South.
For example, Florida, Oklahoma and Arkansas allow the sale of MMJ flower in those markets, and Mississippi will do the same under its new medical program.
She expects other states in the region to follow suit.
"Texas is coming," Macias said. "It's not ready yet, but it does hit, it will be a tremendous force for the industry."
– Bart Schaneman