A publicly traded cannabis company has filed suit against a major shareholder, alleging he caused the Securities and Exchange Commission to temporarily halt trading of the firm's stock earlier this year.
Colorado Springs-based Advanced Cannabis Solutions contends that Stephen Calandrella, president of The Rockies Fund Inc., failed to follow the necessary steps under federal securities law to sell stock in the company, according to the Denver Post.
Calandrella ranked as an affiliate shareholder, meaning he controlled more than 10% of the company's stock. Affiliate shareholders must file formal documents with the SEC and take other steps if they intend to sell a certain amount of stock.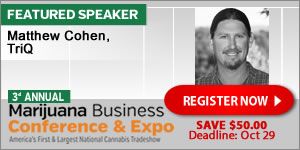 The suit further alleges that Calandrella made illegal short-swing trades of the stock between August of last year and this past January.
Those trades are what drove the SEC to halt trading of the company's stock, Advanced Cannabis claims in the suit.
The company wants the courts to award it any profits Calandrella made from the trades.
Calandrella denied the allegations in court filings, saying the suit is a personal attack by ACS's lead executive, CEO Robert Frichtel.