By Marijuana Business Daily

Cannabis companies that help others can end up helping themselves in the process.
That was one of the core messages on Thursday morning at the Rio All-Suite Hotel and Casino from Ben & Jerry's co-founder Ben Cohen, who delivered the keynote address at the start of the 2014 Marijuana Business Conference and Expo. The iconic ice cream company made a name for itself in its home state of Vermont as a socially conscious business that focused just as much on giving back to communities as it did on turning a profit.
And that approach was a deliberate decision, because Cohen and his business partner, Jerry Greenfield, didn't want to just make money – they wanted to use their business as a force for social change. And in doing that, they found that their bottom line increased exponentially.
"The way it creates consumer loyalty is off the hook," Cohen said. "There's a spiritual aspect to business, just as there is to the lives of individuals."
Cohen suggested that cannabis companies across the country could ask their customers to engage with them in advocating for reforming marijuana laws in either their states or nationally.
"That makes you bonded with that customer," Cohen said.
Cohen's keynote address began just 45 minutes after Marijuana Business Media, the organizer of the conference, announced that they had sold out of full-show registration passes for the symposium. The two-day conference attracted more than 3,000 attendees interested in the cannabis industry from at least 30 states and 10 countries, including Australia, the Czech Republic, and Germany.
On Thursday afternoon, hundreds of attendees split their time between the expo floor, which featured 142 exhibitors, and cannabis discussion tracks on topics that ranged from 2014 election analysis to cultivation techniques to the future of marijuana-infused edibles.
Some highlights: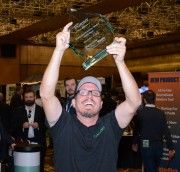 – GreenBroz Inc., a manufacturer of marijuana processing equipment, won the first-ever Marijuana Business Media Pitch Slam Champion award at the annual conference. It was presided over by a five-judge panel, which included Cohen, Tom Bollich of Surna, Brendan Kennedy of Privateer Holdings, Emily Paxhia of Poseidon Asset Management, and Patrick Rea from MISO Capital. The contest was held as an educational demonstration for the benefit of attendees looking to improve their pitching skills to potential investors.
It focused on several key areas, including uniqueness of the business concept, business plan viability, quality of the investment opportunity and management team, and even style points.
– Growing marijuana in warehouses raises production costs for cannabis cultivators while also using valuable natural resources, said Van McConnon, CEO of Colorado Cannabis Systems.
"It's an environmental disaster," McConnon said during a panel on cannabis growing practices. "Artificial light is a waste."
With industrial warehouses sometimes blocked together in areas where grows are allowed, finding enough electricity can be an issue, especially in Colorado. Increasing the amount of power, if a company were to need it, may require investment in a new substation that could cost upwards of $8 million, which would then suck energy at an alarming rate, McConnon said.
If regulators were to allow producers to grow marijuana in greenhouses, hoophouses or outdoors, production costs would plummet while environmental concerns would be mitigated, said McConnon, who was one of the original founders of Colorado Cannabis Systems.
For example, power costs about $152 a pound with HID lights, $79 with LEDs, $43 in a high-tech warehouse and $9 a pound in a hoophouse, he said.
– Aaron Justis, president and CEO of Buds and Roses, a Los Angeles-based dispensary, admonished attendees to engage in serious shoe-leather research.
For instance, Justis said, if a cannabusiness was interested in persuading Buds and Roses to carry one of its products, he suggested they become a member, shop the store, try the products the dispensary already carries, and find a new niche to fill.
"If you have a chocolate bar, that's great. We've already got three strong sellers and we aren't looking to add more. But maybe you can come up with a product that fills a niche we don't have."
– Jessica Billingsley, the COO of MJ Freeway, which provides inventory, client and point-of-sale management, cautioned attendees that there are vast differences from state to state and even market to market within a state.
With that in mind, she said, it's vital to keep those differences in mind.
"For instance, the Northeast has some of the smallest markets and most have a limited number of licenses and the financial regulations are steep," Billingsly said. "On the other hand, for instance, California is a much larger market but regulations and compliance are in a state of wild flux."
– Ingrid Joiya of Green Rush Financial Services, which serves dispensaries, cautioned to not to try to get too far ahead of the curve.
"Really, the place you want to be," Joiya said, "is on the leading edge."
One topic all three panelists stressed – know and follow all laws and regulations.
"This is a small industry," Justis said. "Protect your reputation."
-During a panel on whether future recreational marijuana states will follow either the Colorado or Washington State regulatory model (which are drastically different in many ways), experts said it will probably be neither. Instead, states like Oregon and Alaska will more likely evolve into a hybrid of the two.
"Each state thinks it has to out-do the prior one in terms of regulations," said Greta Carter of the Cannabis Training Institute, "And this little plant can only carry the burden so far."
Tony Dreibus, Jennifer Mann and John Schroyer contributed to this report