The author of the 2013 Cole Memo has a clear message for California: "If you don't want us prosecuting (marijuana users) in your state, then get your regulatory act together."
U.S. Deputy Attorney General James Cole made that comment in an interview with the Los Angeles Times after announcing earlier this week that he plans to step down from his current post.
Cole issued a key memo a little over a year ago that basically gave Colorado and Washington State the green light to move forward with recreational marijuana legalization, as long as they implement strict regulations and provide effective oversight.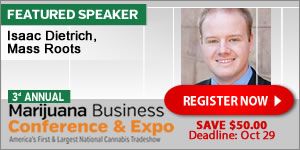 California has tried and failed repeatedly to pass statewide regulations on its medical marijuana industry, leaving it vulnerable to federal crackdowns. Another regulatory attempt is expected to begin early next year.
Cole's leniency in enforcing federal law over state law when it comes to marijuana lends extra weight to his warning to California, especially because he's resigning from the Department of Justice.
Cole told The Times this week that he is "proud of his efforts to take a softer approach to enforcing marijuana laws." But his successor might not do the same.
U.S. Attorney General Eric Holder is also leaving the Obama administration later this year.