By John Schroyer
The end of mandatory vertical integration has arrived in Colorado.
Starting today, recreational cannabis retailers in the state no longer have to grow at least 70% of the inventory they sell, meaning stores are free to buy as much as they want from commercial growers.
As a result, the wholesale market for marijuana could grow considerably in the coming months, changing the dynamics of the industry.
Marijuana Business Daily sat down with Jennifer Beck – the co-founder and CEO of Cannabase, which offers an online wholesale marijuana marketplace that connects commercial growers with retailers – to get her thoughts on how the changes might alter the industry landscape in Colorado.
Colorado's cannabis industry was built around vertical integration. How will the industry shift now that retail stores will be able to buy 100% wholesale? How will it affect prices, expenses and operations?
I think it's going to change pretty drastically.
Vertical integration was a good decision; it kept the market small while it needed to. It created very high barriers to entry. It forced people to create very quick partnerships in order to facilitate both the grow and the retail side, and to manage both effectively and in a compliant manner.
So this is going to be a real weight off a lot of business owners' shoulders.
It's going to really lower the barrier to entry into the cannabis business arena. But most importantly, it's going to be great for the consumer. I think we'll start to see a lot more variety, lower prices, higher quality, all of the natural ramifications of a high-functioning, efficient marketplace.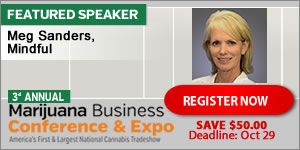 Do you expect many existing retail stores to move towards buying wholesale cannabis? They have invested tens of thousands – and even more – in building their own grows in recent years.
I think it gives businesses a real opportunity to create a business model that is the most strategic for them, versus being placed into a cookie-cutter scenario where they need to produce "x" amount of plants and have a retail center that can sustain healthy margins in light of these restrictions.
Each business is really going to need to find its place based on what it's learned about itself over the last few years. So if they have a really successful grow, it might be time to just invest in that grow and growing the brand of that product and no longer worrying about the retail side.
And vice versa – there are people who don't like running a grow.
How big do you think the wholesale cannabis market will be in Colorado?
I think it's going to take time. Nothing is going to be automatic, because it's a plant. It's organic. But I think it could get really large.
We have a lot of really passionate growers, and we have a lot of entrepreneurs focused on participating in the grow/cultivation side on the industrial level. As these restrictions begin to lift, I think we'll see an explosion in not only the amount of people going into the grow side of the business, but also the ancillary businesses that support and enhance the efficiency of a grow – increasing yield and (moving) prices lower and lower.
How does Cannabase help facilitate transactions between wholesale growers and other cannabis companies, and what trends have you seen?

We have over $5 million in listed product on the site (in either bud, trim, extract, edible, seed, or clone). We do not handle the brokerage or the transaction itself. People connect over listings, and we can see how the listings are changing, and anecdotally, we work closely with grows and retail centers to understand what they're looking for and what they want to push.
What we've found is that asking prices are very high, and one of the problems is it's hard to find third-party qualifiers to help differentiate one person's Bubba Kush from another's. So we've been working on bringing in lab data, trusted vendor scores so that individuals can get an idea of why they're paying $3,000 a pound to one person and $1,200 a pound to another. Prices are all across the board.
What considerations should a retail store or dispensary take into account when buying wholesale, and what challenges arise?
Number one would be lab data. That's one of the most important things, especially as it's becoming more mandatory, so you can see what you're buying and what you're getting.
It often depends on the reason you're purchasing. If someone is looking to buy in large quantities, then you want to have a good relationship with the vendor, so start buying small and see the quality of their product. See if they're trustworthy. The market is still small enough that you can associate a vendor with the quality of their product. It tends to be fairly consistent.
What's been the biggest difficulty you've run into as a startup company in the cannabis industry?
Our biggest problems are still federal in nature. Restrictions to banking, to credit, to securing intellectual property, have been really, really damaging and difficult.
John Schroyer can be reached at Johns@mjbizmedia.com