Will the cost of doing business in Maryland turn away medical marijuana entrepreneurs and disenfranchise 45,000 potential patients?
That's the concern of many MMJ advocates after a state commission suggested a $125,000 annual fee for cultivation licenses and a $40,000 yearly charge for dispensary permits. Entrepreneurs would also have to shell out up to $6,000 just to apply for a license.
If adopted, the fees would be among the highest in the MMJ industry.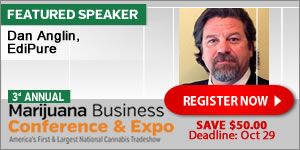 One critic, state Delegate Cheryl Glenn, called the fee proposal "outrageous" and "ridiculous," while commission members said the price is needed to offset the cost of setting up and running the MMJ program.
The fees are still tentative, however, and subject to change before the state's new rules are finalized.