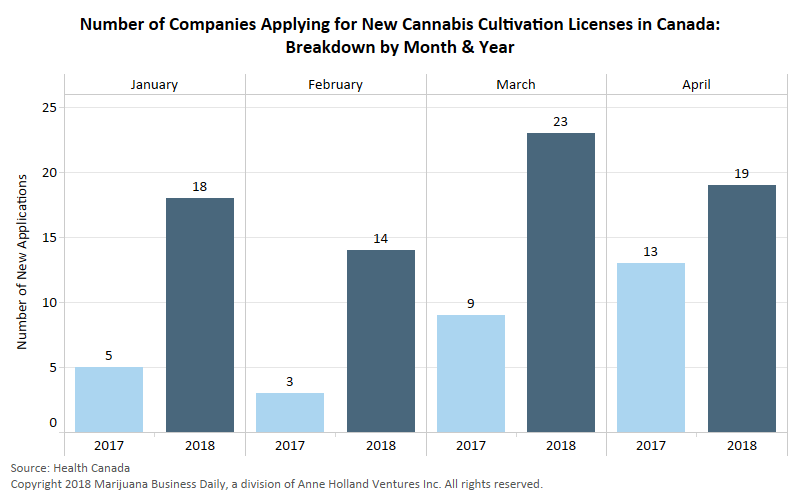 The number of applicants to cultivate cannabis in Canada rose 150% in the first quarter of 2018 as the industry ramps up for legalization late this summer.
Health Canada received 74 cultivation applications in the first four months of this year, bringing the total number of applications in the pipeline to over 500; 30 applied for cultivation licenses in the same period in 2017.
The newest applicants aren't expected to have product on store shelves until 2019 at the earliest because, on average, it takes 341 days after a company is awarded a cultivation license to get a permit to sell. Getting a cultivation license can take six months to multiple years.
The lack of large-scale, fully licensed capacity in Canada could exacerbate a marijuana shortage, depending on consumer demand from provincially regulated outlets, according to Hamish Sutherland, CEO of White Sheep, a commercial operator and strategic investor in cannabis assets.
Of the 104 companies allowed to grow cannabis, less than half (48) can sell dried cannabis and just 25 are permitted to sell cannabis oil.
"The number of cultivators is critical, because that leads to the next step – sales licensing," he said. "Once all these 'majors' get everything in the ground, then they have to go through the process to get a sales license."
Ontario-based CannTrust holds the record for quickest turnaround, 129 days.
Most of Canada's largest facilities have yet to get a license from Health Canada to sell cannabis, including Aurora Sky in Alberta (owned by Aurora Cannabis) and BC Tweed in British Columbia (owned by Canopy Growth), Sutherland said.
The longer it takes a licensed producer to successfully and consistently cultivate cannabis in its large facility, the longer it takes to get a sales license.
"Adult users will almost certainly not have access to adequate legal supply for a considerable number of months/years," he said.
CannTrust, Aurora Cannabis and Canopy Growth are traded on the Toronto Stock Exchange under the symbols TRST, ACB and WEED, respectively.
Matt Lamers can be reached at mattl@mjbizdaily.com
To sign up for our weekly Canada marijuana business newsletter, click here.