Capital raises in the cannabis industry may be roughly the same in terms of absolute numbers, but data shows the amount being raised has grown significantly.

In August, the number of closed capital raises was 38, one fewer than the corresponding month last year, but the amount raised totaled $972.8 million, compared with $369.3 million.

Advertisement

The average size of each raise was $25.6 million in 2019, compared with $9.5 million a year ago.

In terms of M&A transactions, 24 deals were completed in August compared with 26 in the same month in 2018.

This monthly series from Marijuana Business Daily and Viridian Capital Advisors provides the latest data on cannabis investment activity and M&A, along with key takeaways, analysis and trends based on recent market moves.

The data below, provided by Viridian Capital Advisors, is through the end of August.

For more analysis and in-depth looks at the investment trends and deals driving the cannabis industry forward, sign up for our new premium subscription service, Investor Intelligence.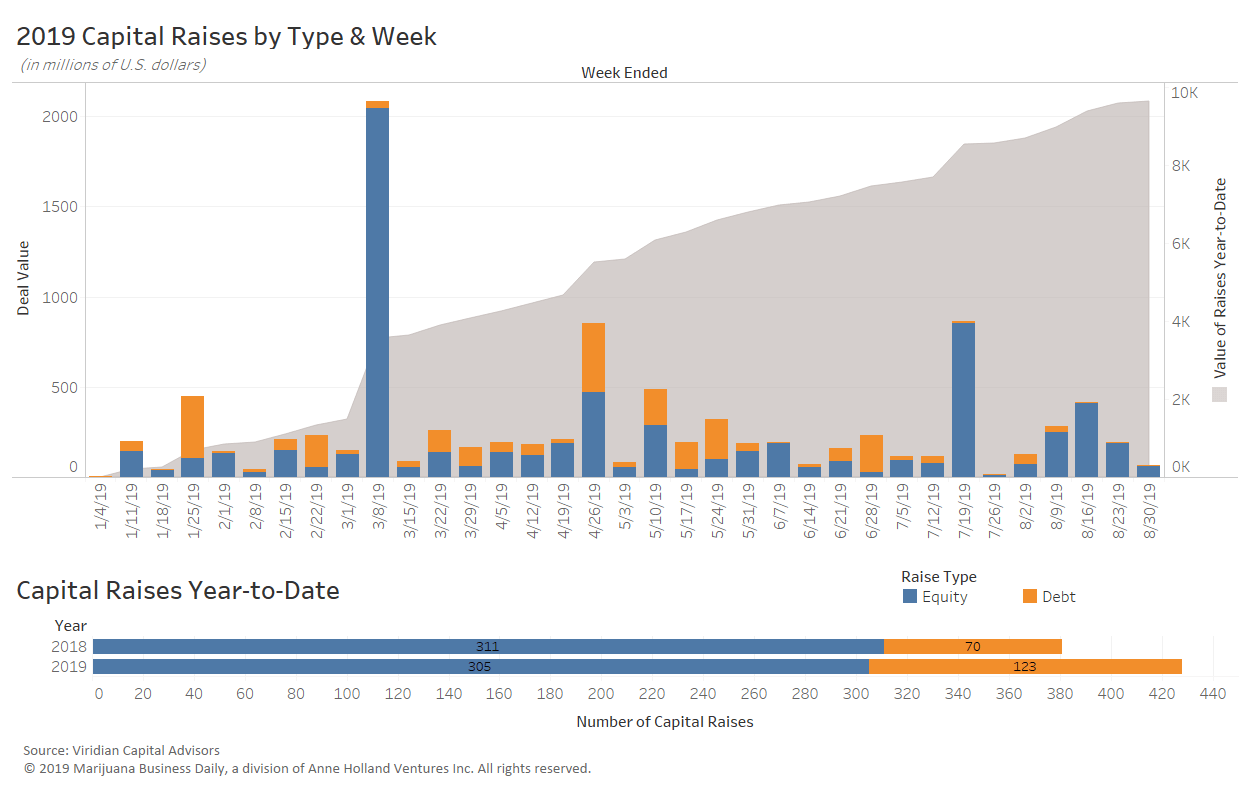 Raises focused on cultivation and retail, larger public equity raises this year
As in the M&A cannabis market (see below), capital raises are predominantly focused on the cultivation and retail sector.
Through the end of August 2019, a total of $5.4 billion was raised in the sector compared with $3.54 billion in the same period last year.
Public companies dominated overall equity raises in August alone, contributing $632.4 million to the total figure of $925.1 million of equity raises in the month. That compares with just $176.3 million raised by public companies in August 2018 amid an overall equity raise total of $329.6 million last year (public and private) in August.
The $176.3 million figure compares with $153.3 million in equity raised by private companies in August 2018. The gap between public and private company equity raises this year is much more stark – $292.7 million by private companies versus the public companies' $632.4 million figure.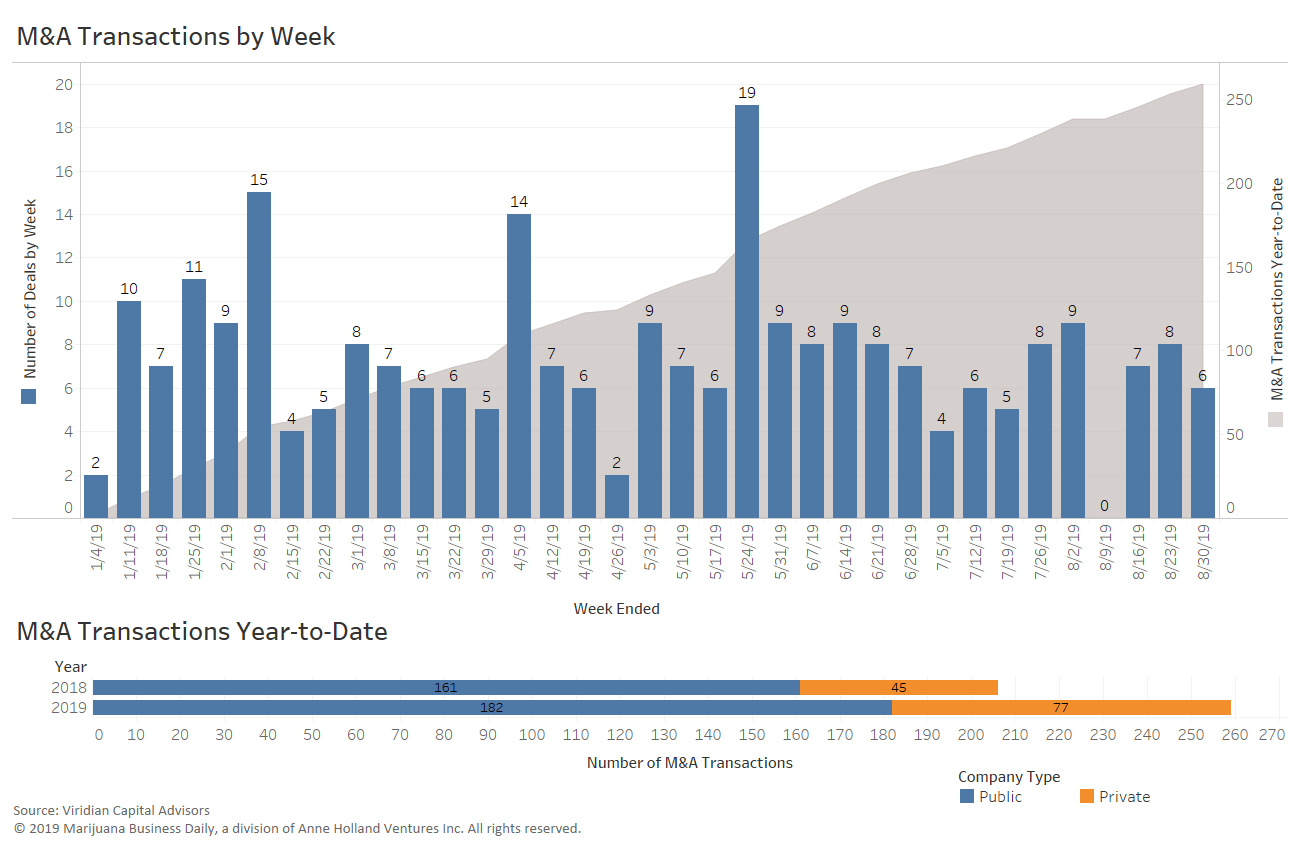 Cultivation and retail continue to dominate M&A in August
Acquisition activity in the M&A sector has been boosted by a couple of factors.
The sector, among the most established in the industry, is facing consolidation, even as multistate operators expand into new markets.
In August, 75% of acquirers came from the cultivation and retail sector; in the same month last year, only 42% of transactions involved buyers in the sector.
Year-to-date, 120 of the 259 M&A transactions in cannabis (public and private) involved companies in cultivation and retail. That compares with 58 out of 206 transactions in the corresponding period in 2018.
Get more insights on cannabis investing trends in the latest Investor Intelligence webcast, featuring Scott Greiper and Harrison Phillips of Viridian Capital Advisors.
Viridian Capital Advisors is a financial and strategic advisory firm that provides investment banking, M&A, corporate development and investor relations services to emerging growth companies and qualified investors in the cannabis sector.