Delaware Gov. John Carney said Friday he would allow pending legislation that legalizes recreational cannabis in the state to become law.
That means Delaware becomes the 22nd state in the U.S. to legalize adult-use marijuana and set up a regulated industry.
Business licenses could be issued as soon as this summer, though it's not yet known when sales would begin.
Lawmakers say a 15% tax rate established in the pending legislation is among the country's lowest.
Carney, a Democrat, vetoed a similar package last year.
Where marijuana is legal in the United States

This year, after both bills passed the state General Assembly with a veto-proof majority, the governor faced the choice of vetoing the bills and risk the Assembly overturning the veto or allowing both bills to become law without his signature.
He had until Saturday to act on House Bill 1, which ends criminal penalties for adults 21 and older possessing small amounts of cannabis.
The deadline to act on HB 2, which creates regulations for a legal industry, was April 26.
He chose to return both unsigned, while voicing serious reservations.
"As I've consistently said, I believe the legalization of recreational marijuana is not a step forward," Carney note in a statement released by his office on Friday.
"I want to be clear that my views on this issue have not changed," he added. "I remain concerned about the consequences of a recreational marijuana industry in our state."
"I came to this decision because I believe we've spent far too much time focused on this issue, when Delawareans face more serious and pressing concerns every day. It's time to move on."

Here is my statement on House Bill 1 and House Bill 2. https://t.co/zTYvPkbbZF

— Governor John Carney (@JohnCarneyDE) April 21, 2023
Legalization advocates cheered Carney's decision.
"We applaud Gov. Carney for not standing in the way of progress," Toi Hutchinson, president and CEO of the Washington DC-based Marijuana Policy Project, said in a statement.
"With every new state that rises to the challenge and legalizes cannabis, we are one step closer to ending cannabis prohibition nationwide."
Carney's choice to legalize via inaction follows a similar path taken in Vermont, where Republican Gov. Phil Scott also allowed adult-use legalization legislation to become law in 2020 without his signature.
The second-smallest state in the union and the home state of President Joe Biden, Delaware joins nearby Maryland, which legalized cannabis at the ballot in November, and New Jersey, where legal sales began a year ago today, in allowing for marijuana consumption and sales.
Delaware's legislation calls for license caps: 30 retail licenses and 30 cultivation permits allowing for indoor grows bigger than 2,500 square feet or outdoor grows bigger than 1 acre will be issued.
Of the retail permits in Delaware, 15 are reserved for social equity applicants. Of the 30 cultivation permits, 10 are for social equity applicants.
Chris Roberts can be reached at chris.roberts@mjbizdaily.com.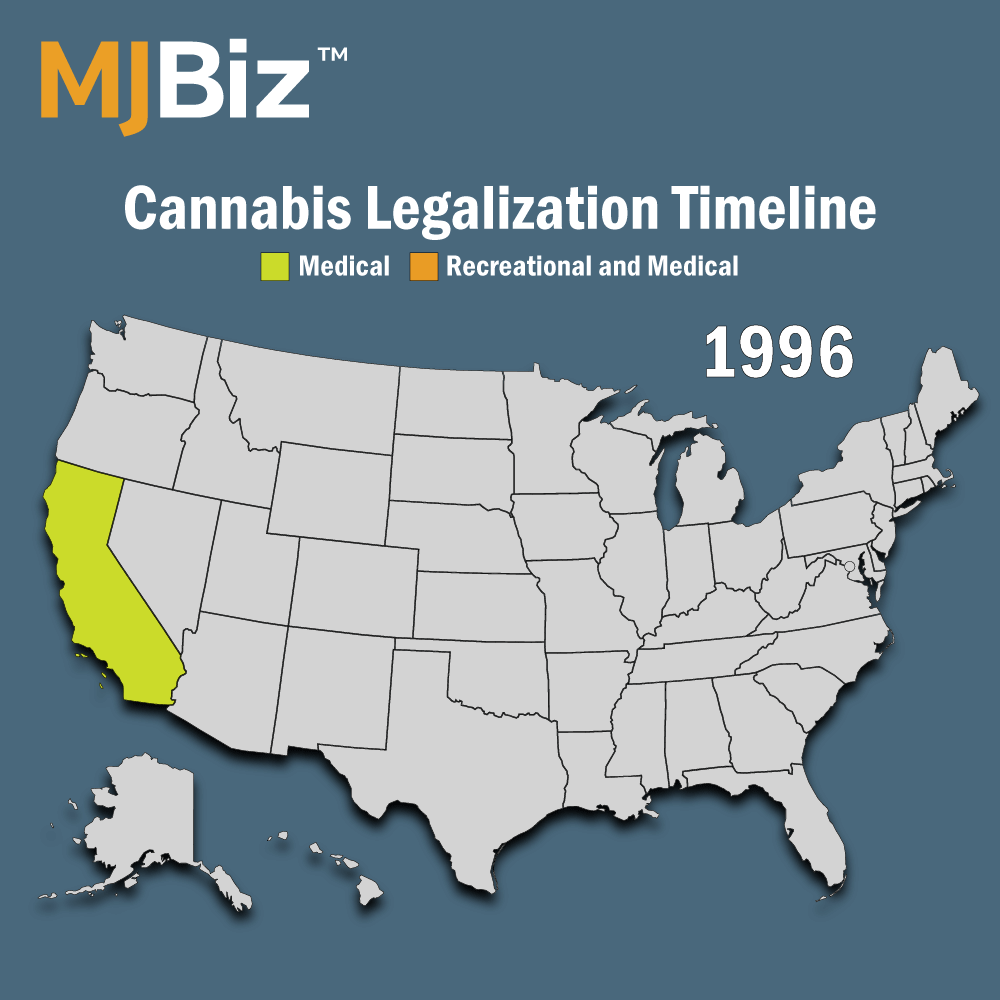 (Map updated as of April 21, 2023.)