Equity capital raises were the key trend of the week as the cannabis space recorded the third-highest weekly amount raised so far in 2019.

In total, $289.8 million was raised through equity deals, just two weeks after the second-highest week of the year when $473.5 million was raised.

Advertisement

Twenty-one deals raising $354.3 million closed this week. That compares with just five deals raising $44.8 million in the same period last year.

This weekly series from Marijuana Business Daily and Viridian Capital Advisors provides the latest data on cannabis investment activity and M&A, along with key takeaways, analysis and trends based on recent market moves.

The data below, provided by Viridian Capital Advisors, is through the week ended May 10.

For more analysis and in-depth looks at the investment trends and deals driving the cannabis industry forward, sign up for our new premium subscription service, Investor Intelligence.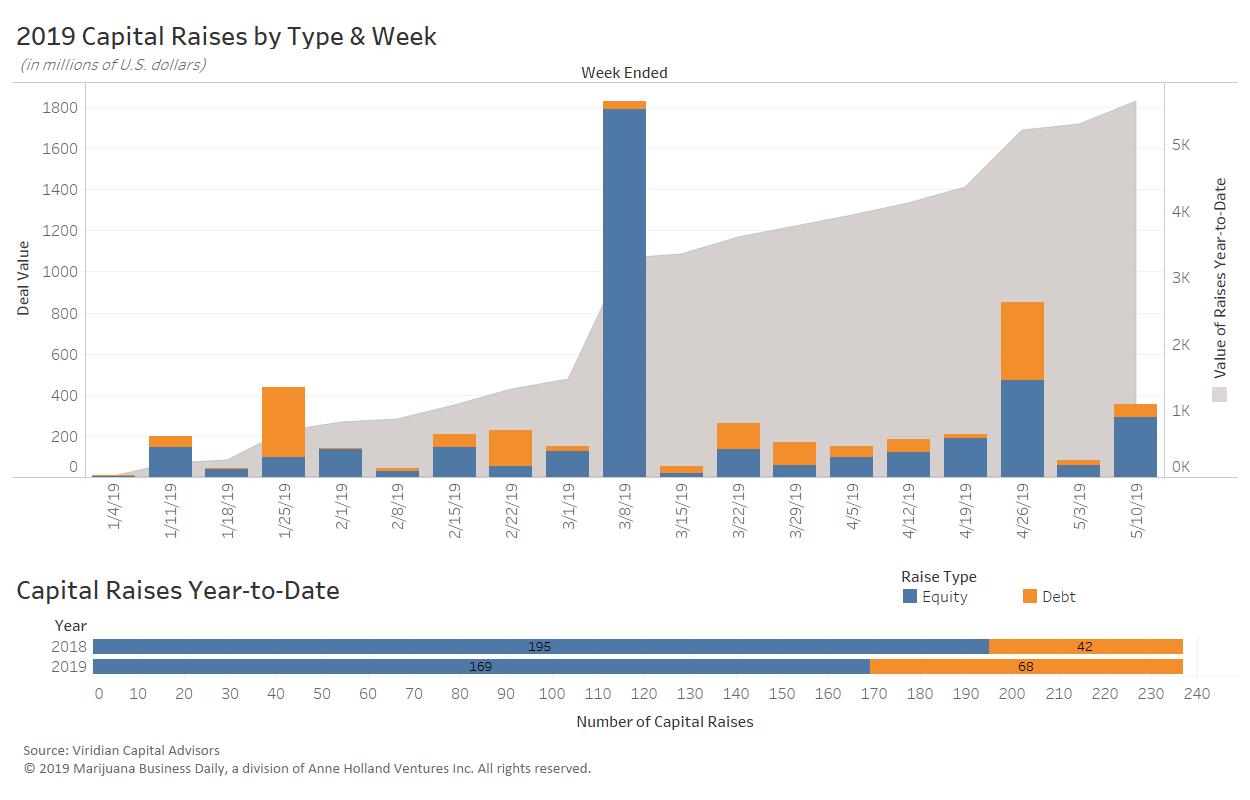 Top raises closed last week:
CannTrust, the Ontario, Canada-based cannabis producer, closed on a $170 million equity offering. The company, which trades on the Toronto Stock Exchange under the ticker symbol TRST and on the New York Stock Exchange as CTST, said in March it is seeking approval to raise as much as 700 million Canadian dollars ($525 million).
Phoenix-based 4Front Holdings closed on a $50 million loan to build cultivation and processing facilities linked to its planned merger with Vancouver, British Columbia-based Cannex Capital.
Top M&A deals closed last week:
Brooklyn, New York-based Better Choice Co. closed on two deals specializing in the CBD pet-food industry sector. The value of the acquisitions of TruPet and Bona Vida were not disclosed.
NIC, the Kansas-based provider of digital government services, closed its acquisition of Denver-based Complia, which provides a technology platform for government regulation of cannabis companies. NIC trades on the Nasdaq under the ticker symbol EGOV.
Viridian Capital Advisors is a financial and strategic advisory firm that provides investment banking, M&A, corporate development and investor relations services to emerging growth companies and qualified investors in the cannabis sector.