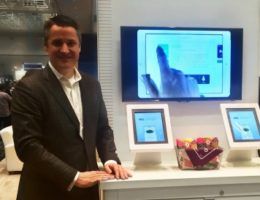 By Omar Sacirbey
Privateer Holdings, a cannabis-focused private equity firm, plans to spend a significant chunk of the $122 million it has raised over the past year on expanding its international holdings and footprint through acquisitions, exports, additional hires and new ventures.
Earlier this month, the Seattle firm – which owns three companies – completed a $40 million round of fundraising, adding to the $80 million-plus it netted in previous rounds.
Privateer is the first marijuana-centric investment company to raise more than $100 million, a sign that deep-pocketed investors increasingly are warming up to the cannabis industry as more states legalize recreational and medical MJ.
Brendan Kennedy, the chief executive officer of Privateer, said the firm will spend its war chest over the next 12 to 18 months, deploying at least half of the total outside the United States.
"Our investment thesis is all around brands," Kennedy told Marijuana Business Daily earlier this month. "We're looking at new global cannabis brands that target different consumer and patient demographics. We also look to expand our existing brands and new acquisitions into Canada and Europe."
Privateer's current holdings include:
Leafly, an online strain and dispensary guide that receives more than 10 million visitors per month.
Tilray, a federally licensed Canadian medical cannabis producer that has been positioning itself as an overseas exporter of medical marijuana.
Marley Natural, a marijuana brand currently sold in stores in California and Oregon and will be available next month in Washington State.
Focus on exports

This past year, Tilray became the first company to export cannabis from North America – from its grow site in Vancouver to Croatia – and Kennedy hopes to build on that with exports to Australia, Germany and other European Union countries.

"Exports are an important focus for us, and we'll continue to export product from Canada to other countries around the world," Kennedy said.

An export strategy will require patience but will be worthwhile if it can be pulled off, said Morgan Paxhia, a managing director with Poseidon Asset Management, a marijuana-focused investment firm in San Francisco.

"These are small markets, so it's more laying the groundwork for the bigger picture in the longer term," Paxhia said. "It's not as much a near-term return on investment as it is a long term."

Privateer also is working hard to set up roots in Germany. The country recently set up a very limited medical marijuana program serving fewer than 1,000 patients but hopes to propose a more expansive program in 2017.

Kennedy and his Tilray colleagues have flown to Germany several times in the past year. Kennedy said it still isn't clear whether Privateer will acquire or partner with a local German company, or start its own venture from scratch, as it did with Tilray.

"We have our own people there," Kennedy said, adding that "It's a very nascent market and we'll see what happens over the next few months as Germany moves toward legalization."

Election's role

In addition to wealthy investors, Privateer's funding attracted institutional interest, as well as money from so-called family offices – firms that manage the wealth of private families.

In fact, half of the $40 million raised in the latest Series B fundraising round came from one institutional investor, which Kennedy declined to disclose.

"We're seeing a surge of interest from large strategic investors who would never have looked at this space a year or even six months ago," Kennedy said. "We expect the C Round to be almost exclusively institutions and family offices. The note was the last bite at the apple for smaller investors and high net-worth individuals."

Kennedy said the investors behind the $40 million raise wanted in before the Nov. 8 election. Voters ultimately approved new recreational and medical marijuana markets in eight states, including California – although Donald Trump's election as president has created major uncertainties for the industry moving forward. So too has Trump's choice of Republican Sen. Jeff Sessions as attorney general.

"If you (started) looking at this industry on Nov. 9, you're 18 months behind," said Kennedy, who spoke with Marijuana Business Daily just before the election. "It's complicated for any investor to understand this industry, and it takes six months of due diligence just to begin to understand the complexity."

This Series B round dates to late 2015. That's when a few investors interested in the cannabis industry approached Privateer, which put the offers on the "back burner" until a few months ago when the investors specified they wanted to wager their money on the industry before the election.

"Investors wanted to have a placeholder to make additional investments," said Kennedy, who predicted "a rush of interest in investing in this industry" after the election.

While institutional and family office interest is growing, serious obstacles need to be overcome before they are regular investors in the cannabis space, Kennedy said.

"Most investors we talk to express two emotions, fear and frustration. They're trying to place capital in this industry and they have a fear of missing out. On the other hand, they've been performing due diligence on companies in this industry and have been extremely frustrated with the quality of the people and companies," Kennedy said.

And in a number of ways the industry is still small potatoes for many investors.

"They're frustrated with the inability to place large amounts of capital," Kennedy said. "We've talked to people who cannot deploy less than $20 million, so that's a challenge in this industry because there aren't a lot of groups in this industry that are raising $20 million."

Nevertheless, Leslie Bocskor, president of Las Vegas-based Electrum Partners, said Privateer's fundraising ability is encouraging for the cannabis industry.

"It shows that there is going to be capital available," Bocskor said. "They create more possibilities."

Omar Sacirbey can be reached at [email protected]