A national cannabis consulting firm has brought on a key architect of Israel's medical marijuana program to serve on its executive team.
Mimi Peleg – who helped implement and manage Israel's state-run MMJ program – will serve as the director of training for California-based MedMen, the company told Marijuana Business Daily.
Peleg was the director of large-scale cannabis training for more than half a decade at Israel's medical marijuana distribution facility (called Mechkar), which serves 20,000 patients with MMJ prescriptions.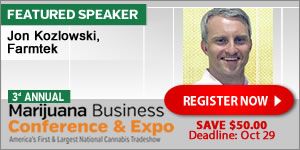 At MedMen, she'll be in charge of training all marijuana-related workers that are affiliated with the company. She'll also be writing manuals on cultivation procedures, management and patient relations, among other topics.
Peleg, who is relocating from to the U.S. as part of the position, said one of the cons of working in Israel was the "heavy-handed moralistic rules governing progress, rather than the free market."
MedMen helps dispensary owners and growers manage their day-to-day operations and provides consulting services to cannabis entrepreneurs seeking MMJ business licenses.