By John Schroyer
When it comes to business opportunities, many entrepreneurs in the nation's first recreational cannabis markets are focused on "the big three" – retail stores, cultivation sites and infused products companies.
But the emergence of retail marijuana has given rise to entirely new business models and concepts that cater to the recreational cannabis consumer. In fact, it seems as though anyone with a little imagination can find a way to make a buck off of the new cannabis industry in Colorado and Washington.
Aside from the types of ancillary firms common in medical marijuana markets – such as hydroponics companies, law firms and consultants – a number of unique businesses have sprouted up in the two states. In some cases, inspired entrepreneurs are expanding their offerings in traditional industries to include marijuana in one way or another.
Here are three examples that highlight how entrepreneurs are capitalizing on recreational cannabis:
The Bud and Breakfast
Gwenn David, the owner of the Avenue Hotel Bed and Breakfast (pictured) in Manitou Springs, Colorado, isn't a fan of the nickname "Bud and Breakfast" that a marketing firm gave her establishment.
But the moniker is somewhat fitting. The 128-year-old building is one of the only places in politically conservative El Paso County where tourists can legally smoke marijuana.
"It's pretty simple. Nothing complicated. To our smoking policy, all we added is that we're cannabis friendly," David said.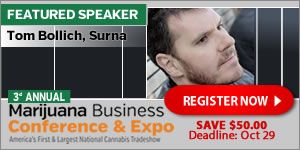 Guests aren't allowed to smoke in their rooms, since David's establishment has a no-flame policy as well. But they can use vaporizers or eat edibles indoors or smoke pretty much anywhere outdoors on the bed and breakfast's premises – on the front porch, the back patio, or elsewhere.
"You can have a beer on the front porch. You can have a glass of wine on the front porch. You can have a puff on the front porch as well. That's about what it amounts to," said David, whose hotel is just a few blocks from the only recreational marijuana retailer in the county.
David said she doesn't spend a lot of money or time promoting her small B&B as a destination for marijuana smokers. During tourist season, the Avenue stays full pretty much constantly, and its market is more high-end clientele. A typical room at the Avenue runs about $140 a night, a good bit more than the average hotel room.
Still, David has noticed that tourists have sought her out.
"I've been surprised how many people have checked in and then asked where they could smoke," David said. "So it was something they already knew prior to getting here, but not something they asked prior to making their reservation."
David has been able to carve a niche in this area in part because the vast majority of hotels in Colorado don't permit marijuana smoking, and tourists need somewhere to legally consume cannabis.
"As it becomes more acceptable in other cities, and other cities sell, they have to provide a place for people to smoke if tourists are coming in. You're only going to create bad will and that's where you'll create problems," David said. "I think that's a problem in Manitou right now. There's not very many places that provide an area for them to smoke, and there's no lounges or anything, so that's an issue."
The Food Truck
One company in Seattle is taking the idea of edibles to the next level, finding a sizable market for marijuana-infused gourmet meals.
The Samich Truck, owned and run by Magical Butter, has been rolling around private events in Colorado and Washington since April 20. The truck peddles a menu that includes THC-laced peanut butter and jelly sandwiches, tomato soup and truffle popcorn. (Samich is an acronym for Savory Accessory Marijuana Infused Culinary Happiness.)
"This is a marijuana renaissance," said Jeremy Cooper, the west coast director of operations and executive chef for Magical Butter.
The entire concept was the brainchild of Cooper's business partner, Garyn Angel, the founder of Magical Butter.
Angel first pitched the idea to Cooper in the Spring.
"Garyn Angel called me about 7 am in the morning and said, 'Want to do a food truck?'" Cooper said.
Now the company is planning a fleet of trucks and is looking into franchising across as many states as it can.
"The truck is a huge hit. We have constant calls for bookings to book the truck for non-infused events, just because the food is high quality," Cooper said.
The fare isn't cheap, though. Cannabis-infused sandwiches are $25 apiece, and a bowl of tomato soup with grilled cheese croutons is $20.
The Samich Truck makes appearances mostly at private parties, such as cannabis festivals, and debuted in Denver earlier this year at the city's 4/20 gathering.
Despite the idea's early success, it isn't without risk: Cooper and Angel are entering into uncharted legal waters, as are many other entrepreneurs who are developing unique business concepts centered on cannabis.
In August, Seattle's "Weed Buses" were essentially shut down by the Washington State Utilities and Transportation Commission.
The commission issued a stern warning to operators that marijuana is not to be smoked on any tour buses. Any operators who do allow marijuana to be smoked on their buses could have their operating permits yanked.
One medical marijuana dispensary manager in Seattle theorized that if state regulators could crack down on the Samich Truck as well, unless lawmakers spell out particular exemptions for such businesses.
The Mile High Massage
Some businesses are targeting marijuana consumers – but not offering them the ability to get high.
Take LoDo Massage and Private Studio in Denver, which sells a "Mile High Massage."
For $65 per one-hour session, clients can get deep-tissue massages with a lotion that is infused with marijuana but doesn't have a psychoactive effect.
"It's mainly an anti-inflammatory," said Ed Rich, who owns the business and its parent company, LoDo Massage LLC. "You don't get high from it, you don't get buzzed from it. It relaxes the muscles so it allows the therapist to get in deeper."
So far, the new massage is a huge hit, Rich said. Almost 80% of the clients the studio had between June and mid-August wanted the marijuana-infused lotion.
"When you come in and get a massage, you can really feel the difference. It's a really good product," Rich said. "We have a lot of repeat business because people feel that it works very, very well."
The business's client base has an enormous range – Rich said he gets repeat customers in their 20s all the way up to elderly customers in their 80s.
And as far as he knows, Rich is the only proprietor offering this type of marijuana massage (though some dispensaries do offer basic massage services).
Rich's only regret at this point is that he can't sell bottles of the lotion in his studio because he's not a licensed marijuana retailer. So he had to strike a bargain with a local recreational marijuana shop, and now he buys the lotion in bulk for about $275 ever two weeks.
But the success of the Mile High Massage has easily offset the cost of paying for the lotion.
"I'd have probably sold quite a bit of bottles by now if I could," Rich said.
John Schroyer can be reached at Johns@mjbizmedia.com