If Republican Bruce Rauner had his way, Illinois's 60 medical marijuana dispensary permits and 21 cultivation center licenses would be sold by the state via auction.
The GOP gubernatorial candidate made the suggestion on Tuesday, while criticizing the state's MMJ application process as too secretive.
Rauner also said that if he had been governor, he would have vetoed the MMJ bill passed by the Illinois Legislature earlier this year. He suggested that Democratic Gov. Pat Quinn has a "secret, insider process" that reeks of cronyism. He cited Quinn's former chief of staff, Jack Lavin, who left the governor's office after the MMJ law was passed, and is now working with a client trying to obtain a medical cannabis business license.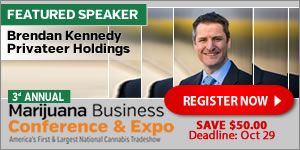 Rauner's position isn't merely symbolic – Illinois's MMJ infrastructure is only a pilot program that will have to be renewed in 2017, so if he's elected governor, he could shoot down the entire industry in the state.