Illinois cannabis retailers are thrilled at the prospect of large crowds of customers and high demand at 6 a.m. CT New Year's Day, which is when state lawmakers said several stores can begin adult-use recreational sales.
Anticipating long lines and cold temperatures, companies are going the extra mile to keep customers happy.
One business, for example, has rented a nearby coffee shop to keep people warm and fed, while another has arranged for food trucks and heat lamps.
Businesses also are stocking up on various products to alleviate potential shortages and bracing for possible technical glitches with the state's track-and-trace software system.
Marijuana Business Daily projects the Illinois recreational program could generate up to $2.5 billion a year depending in part on how many tourists buy cannabis products.
"I've worked on legalization for over 20 years, so to be here – not only to see legalization come to the state that I'm living in but to also have a shop that'll be allowed to sell adult use on Jan. 1 – it's really heartwarming," said Kris Krane, president of Phoenix-based 4Front Ventures, which owns Mission Illinois, a cannabis shop on the south side of Chicago.
Consider the following:
Keeping first-day customers happy
No doubt that unexpected challenges will appear, such as the potential for computer software problems with BioTrackTHC's state track-and-trace system, which is an issue that at least one Illinois retailer said he's worried about.
As for other possible speed bumps around the launch, some retailers that are going to serve recreational marijuana customers on New Year's have:
Stocked up on inventory and beefed up staff.
Worked out logistical plans for things such as online customer orders and overflow parking.
Brainstormed ideas to keep customers happy while they wait outside in perhaps frigid temperatures.
Heat lamps and doughnuts
One of the biggest challenges Illinois adult-use marijuana retailers might face on Jan. 1 is how they will manage to move customers into shops quickly enough that they don't lose patience with long lines and the winter cold.
That's why Cresco Labs has rented out an entire coffee shop, Uncommon Ground, which is near the company's dispensary on Chicago's north side.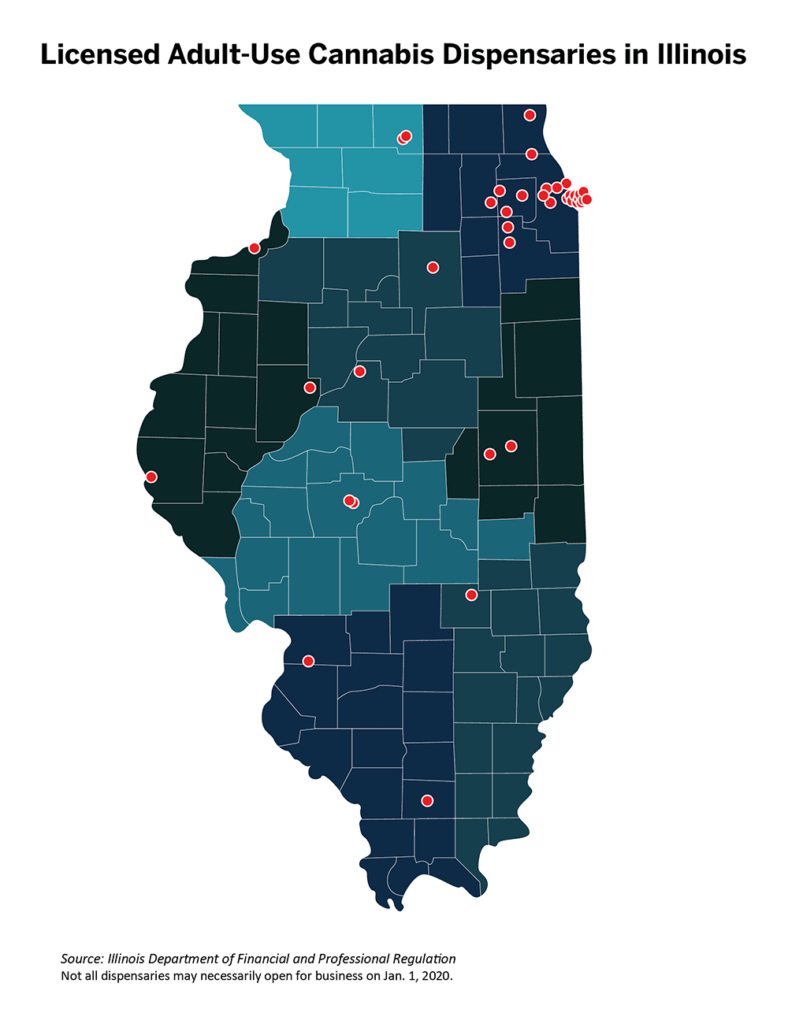 "(The coffee shop) can hold about 300 people, so we're planning on having an indoor staging area, where people can come in, and we'll have non-dosed product displays and iPads and some of our wellness advisers in there, where we hope people can figure out what they want to buy," said Jason Erkes, chief communications officer at Cresco, which has also been in the process of rebranding all its shops as "Sunnyside."
Erkes and other operators said they have no idea just how much of a crowd to expect but added, "We're certainly fielding a lot of questions through our social channels. If that's any indication of the crowd, it's going to be a pretty big crowd."
Green Thumb Industries, meanwhile, plans to have food trucks, heat lamps, coffee and doughnuts on hand to keep customers happy while they wait at any of the company's five locations that'll be open on New Year's.
"If someone sees a long line, I don't want them to be deterred or not have a good experience," said Brendan Blume, GTI's vice president of store development.
"The only thing we can't really control at this point is the weather. I've been through a lot of Chicago winters, and they can be brutal."
Purchase limits probable
One of the likely eventualities – and one that some retailers are planning on – is a shortage of available product.
That's because growers had only six months to ramp up production as much as possible, and there's still a sizable medical marijuana patient population to keep up with.
The answer for retailers is almost certain to be limits on how much customers will be allowed to buy on Jan. 1.
"We have right now maybe 90,000 patients in the state, and the governor's office is predicting that there will be 750,000 adult-use consumers," said Jeremy Unruh, director of public and regulatory affairs for PharmaCann, which will have three stores selling rec on New Year's.
"That's approaching a nine or 10 times increase in folks that we're going to see in our dispensaries."
For that reason alone, Unruh said, PharmaCann and other retailers might have to start rationing.
"I think some products, particularly dried flower, will end up being rationed or limited at the point of sale," he said. "But I don't think anyone's going to run out of cannabis (products). They're just going to run out of flower."
Rolling with the punches
There are going to be plenty of other logistical hurdles, operators said, and they're going to adapt on the big day.
For instance, Unruh said he's worried that BioTrackTHC's traceability system might not be completely functional before Jan. 1 to ensure that customer transactions will go seamlessly.
"That's giving us some heartburn," Unruh said.
But Cole Peterson, strategic services officer for BioTrackTHC's parent company, Colorado-based Helix TCS, dismissed that notion as "rumors flying a lot that we wouldn't be ready to go."
"We have everything lined up. We're on top of it. Everything is good to go on (Jan. 1). There should be no reason for licensees to worry," Peterson said, adding that BioTrackTHC will have support staff working New Year's Day to help companies with any last-minute troubleshooting.
Asked about planning for hard-to-predict logistical challenges, Cresco's Erkes said: "We're going through each location, looking at Google satellite views, and figuring out where we can rent local parking spots, where we can use valet services, how we're dealing with rope lines, working with local police to make sure there's security and people directing traffic."
The bottom line at this point, GTI's Blume said is: "We've been planning this for the last six months. We feel ready and prepared."
John Schroyer can be reached at johns@mjbizdaily.com