By John Schroyer
Companies and investors have been throwing big bucks at the American political system for generations, pumping money into initiatives that will help their business prospects.
But this hasn't been the case when it comes to cannabis, where businesses have largely steered clear of providing financial support to legalization campaigns for one reason or another.
That's finally starting to change.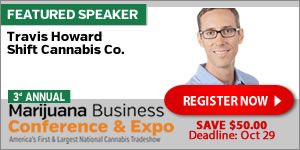 A look at campaign finance records in Florida and Oregon – where marijuana measures are on the November ballot – reveals that businesspeople from all walks of life are getting serious about cannabis.
The Florida campaign to legalize medical marijuana (Amendment 2) in particular has attracted major donors from all over the country.
Though Orlando trial lawyer John Morgan is responsible for the bulk of the campaign's fundraising, dozens of companies, executives, and investors from varying industries – including real estate, construction and agriculture – have ponied up tens of thousands of dollars to help legalize MMJ in the Sunshine State. People United for Medical Marijuana, the campaign behind Amendment 2, has so far raised $6.1 million, and it could add a few million more before November.
Some of the funding has come from mature cannabis companies, long-time industry executives and startups that hope to capitalize on business opportunities if the measure passes.
"It's pretty much the biggest prize in the union," said Scott Dittman, the CEO of Pennsylvania-based FusionPharm, which markets marijuana growing pods to cannabis cultivators across the country. Dittman contributed $20,000 to People United in May and hopes to open a sales center in Florida if Amendment 2 passes.
"Florida's got four or five times the population of, let's say, Colorado," Dittman said. "It will be the most populous state in the union with a functioning medical cannabis program if or when that law passes. That's a pretty obvious corollary, between the size of the market and the number of souls living in the state of Florida."
Other established cannabis industry executive and hopeful dispensary owners who have opened their wallets to support Amendment 2 include:
Harborside Health Center – which runs two wildly successful dispensaries in California – gave $30,000 between April and August.
Emerald Coast Compassionate Care, in Gulf Breeze, Florida, gave $20,000 to the campaign between June and September.
The Cannabis Career Institute of North Hollywood, California, gave $1,125 in March.
FTC Apothecary in Altamonte Springs, Florida, donated $10,000.
Ernie Blackmon, a longtime Denver-based cannabis grower, donated $10,000 to People United.
Bruce Perlowin, the CEO of Hemp Inc., threw in $1,000 in August.
Businesses from as far away as New York, Michigan, Nevada and California – some in the cannabis industry, some in mainstream sectors – have also opened their checkbooks to back Amendment 2. A few examples:
The Ghost Group, a marijuana technology firm based in Las Vegas, donated $20,000 between April and July.
Sewer contractors Midas Flow Controls, of Houston, gave $15,000 in August.
Future Dreams, a real estate firm in North Carolina, donated $15,000.
Baltimore investment company RGY Holdings LLC gave $10,000 in August.
Some of the biggest donors reside in Florida and could benefit immensely if Amendment 2 passes. These include businesspeople who are lining up and prepping to open MMJ dispensaries and grow operations of their own – as well as attorneys who specialize in marijuana law, contractors ready to retrofit buildings and turn them into dispensaries or indoor cultivation centers, and more.
For example, contractor Olin Spivey and his wife, Shirley, of Lakeland, gave a total of $50,000 to the Amendment 2 campaign between March and August. Medical software developer Michael Singer, who resides in Alachua, has donated $40,000 to the legalization push so far. Manchester Capital, an investment company based in Plantation, gave the campaign $60,000 over the course of the summer. Hospitality company Umvar Inc. of Miami donated $45,000 between May and September. Another Miami company, Complete Hydroponics, has thrown in $60,000.
In Oregon, the scale is slightly smaller.
New Approach Oregon, which is running the campaign for the legalization of recreational cannabis (Measure 91), has raised $1.3 million from both in-state and out-of-state parties, and it is still vigorously pursuing donations.
Many established cannabis businesses are supporting the fight for full legalization, including:
Oregrown Industries Inc., of Bend, Oregon, gave the Measure 91 campaign $20,000 between July and August.
Joseph Hopkins, president of The Greener Side dispensary in Springfield, Oregon, gave $1,000 in May and his company donated $290 in June.
Evergreen Garden Supply, of Portland, threw in $5,000 in August.
Sweet Relief Natural Medicine, of Astoria, donated $3,000 in July.
A few of the bigger out-of-state donors for Measure 91:
Sean Luse, an executive with Berkeley Patients Group in California donated $20,000 in July and August.
Massachusetts investor Rene Ruiz gave the campaign $10,000 in August.
Kansas-based financial consultant Patrick Leonard gave $5,000 last year to the campaign.
In-state business interests have been even more active. In June alone, John Sherman, the president of Portland-based United Crane and Shovel, gave $10,000, Jerusalem Grade Realty Management LLC, of Lincoln City, handed over $5,000, and Portland real estate investor Jason Zidell donated $10,000.
In Alaska, however, there's been almost no such influx of donations as in Oregon and Florida. The vast majority of the fundraising behind Ballot Measure 2 has been underwritten by MPP, with the only donation of any significant amount coming from an Anchorage photographer – Chris Cupp, who gave $4,200 to the campaign.
"Obviously Alaska has a far smaller population and is geographically positioned in a place where a lot of lower 48ers, as they would call them, aren't going to pay as much attention," said Mason Tvert, communications director of the Marijuana Policy Project.
But he still expects businesses to become a greater contributor to cannabis campaigns in general as the industry grows and the benefits of legalization become more apparent.
"Marijuana is now a legal product in some states, and it will be a legal product in many more, so it's not surprising that folks in ancillary industries are supporting these efforts," Tvert said. "It's really no different than any other industry. If alcohol were illegal in Oregon, you can bet that folks with distribution and bottling companies and other ancillary industries would be supporting (legalization)."
John Schroyer can be reached at Johns@mjbizmedia.com