Cannabis stores across the U.S. are working to reassign employees to new tasks to cope with a rush of online orders and curbside deliveries amid the coronavirus pandemic.
They're also considering how the current environment might permanently affect the way consumers purchase marijuana and how businesses might plan for that in the future.
The good news is the expense to implement online ordering isn't prohibitive, according to some cannabis retailers.
Here are measures marijuana shops are implementing to help the service go smoothly:
Putting in place a dedicated team that fulfills online orders.
In states where curbside pickup or delivery is prohibited, limiting the number of customers that can enter the store at one time to gather their products.
Strongly encouraging customers to pick up orders promptly.
How coronavirus will affect MJ e-commerce long-term
Smiths Falls, Ontario-based Canopy Growth has temporarily shut down all 23 of its corporate-owned stores and moved to an e-commerce and delivery business model.
"We've shifted some resources around in terms of supporting the back end," said Jordan Sinclair, vice president of communications and media at Canopy Growth.
"Retail staff are being paid, and we're asking them to brainstorm how we can be more effective and to develop a plan to get the stores open safely."
The retail staff also is working on increasing awareness of the company's new e-commerce model and optimizing the user experience.
Canopy Growth has not laid off any staff because of COVID-19, Sinclair said.
He declined for competitive reasons to outline specific steps involved in converting to an online platform but said COVID-19 likely will change the way consumers shop – and not just for cannabis.
"The advice I would offer any business is to go where the puck is going," Sinclair said.
"We're looking at a reality where e-commerce is going to be the majority of commerce. We're trying to be a step ahead and shift our focus and resources there."
Safety measures around pickup
Millis, Massachusetts-based CommCan, a vertically integrated operator of both medical and adult-use marijuana stores, is encouraging customers to order online for quick pickup.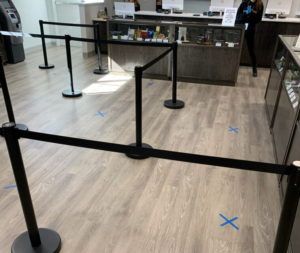 The company has marked Xs on the floor 6 feet apart for its customers to stand on and is monitoring how far apart they are in the line outside the store as well, said Marc Rosefeld, who owns CommCan with his siblings, Ellen and Jon.
But there are downsides to customers preordering cannabis products.
"(One) night, we put away 50 preorders that people did not come to claim," Rosenfeld said. "That took a significant amount of product out of inventory that people were looking for.
"You can't preorder a day in advance. You have to pick it up that day."
Moving employees to new roles as necessary
While Rosenfeld doesn't anticipate the state shutting down marijuana retailers or dispensaries, if it does happen, he'll shift employees to cultivation or medical marijuana stores, which would be the least likely to close.
"We can always use more help in cultivation," Rosenfeld said. "We can absorb employees from the adult-use store."
Shifting to online ordering and curbside pickup shouldn't be too costly or difficult for most cannabis companies as long as they remain in compliance, said marijuana consultant Avis Bulbulyan, CEO of Los Angeles-based Siva Enterprises.
"It depends on what they already had to begin with," he added.
"If they haven't provided online orders before, it could be pretty pricey. They could have a designated phone number and curbside pickup wouldn't be too bad."
Jushi Holdings, a multistate marijuana and hemp operator based in Boca Raton, Florida, has designed a program where medical cannabis patients can phone in orders ahead of time.
Upon arrival, an employee escorts customers to a private room off the sales floor where they will have access to dedicated cashiers to complete their transactions.
"We are stressing an increase in phone-in orders," said Blythe Huestis, vice president of retail operations for Jushi, which operates Beyond/Hello shops in Pennsylvania and The Green Solution stores in Illinois.
"It gives us an opportunity to still have an interaction and make sure the products they want us to set aside are in stock. It allows us to streamline the process when the patients come in. It limits the interaction."
Huestis said there are no additional costs related to the call-ahead pickup service, which is being offered at all the company's locations. She said she has no reason to believe the company's stores will close.
"If we are given a reason to believe that closing may become a reality, we would assess the situation and communicate our response to the impacted employees at that time," she said.
"Our employees are deeply passionate about serving their patients and customers and have remained committed to showing up for them each day.
"As we learn more each day from all sources of information, including our employees, we adjust our processes and procedures to promote a healthy place to work and shop."
Ashland, Oregon-based Breeze Botanicals, which originally planned to launch its online ordering system April 11, instead started the service March 16.
The company pays Oregon-based online marketplace and delivery service Dutchie a monthly fee of $250 for the service and startup costs.
"The costs are labor hours and training in the midst of a crazy rush of customers wanting to stock their cannabis items," Breeze Botanicals CEO Brie Malarkey said.
If marijuana stores are shut down, Malarkey said, she'll move retail staff to other positions in the company.
"Fortunately, we are a seed-to-sale company and will do all we can to shift people as skill sets match needs within the company," Malarkey said.
"But, unfortunately, we are a small, family-owned business, and if the dispensaries are shut down, we will do all we can to help associates file for unemployment."
Margaret Jackson can be reached at margaretj@mjbizdaily.com
For more of Marijuana Business Daily's ongoing coverage of the coronavirus pandemic and its effects on the cannabis industry, click here.