A medical marijuana vending machine generating plenty of buzz in the media has made its debut in Denver, one of the largest MMJ markets in the country.
Doctor's Orders – a dispensary just north of the downtown core – recently began offering patients the ability to purchase cannabis-infused cookies and candies via the machine, which is called Zazzz.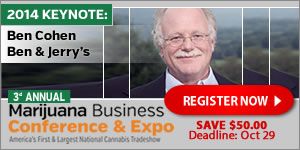 The machine accepts cash and Bitcoins, letting registered MMJ patients bypass lines and helping dispensaries handle larger crowds.
American Green, the company behind Zazzz, unveiled the machine earlier this year to much fanfare. Executives announced in a press release earlier this summer that their "initial common goal" with investors was to place 1,500 vending machines.
But the rollout of the product has been slow, and some observers are skeptical that the machine will gain traction.
American Green (formerly Tranzbyte) trades on the over-the-counter market under the symbol ERBB.