Wholesale cannabis prices appear on the rise in longstanding adult-use cannabis markets Colorado, Oregon and Washington state, according to two recent reports and insight from growers.
The upward-trending prices seem to be increasing because of:
Stronger demand and weaker supply beyond the typical summer economic dynamics.
More growers going out of business.
Farmers pivoting to hemp.
Cultivators sitting on product hoping for a more favorable market.
Seaport Global, an investment bank with offices in New York and New Orleans, recently released an analysis that shows wholesale marijuana prices going up since mid-April in the three states that first legalized recreational cannabis: Colorado, Washington and Oregon.
According to the report, wholesale marijuana prices have risen by:
100% in Oregon.
46% in Washington.
17% in Colorado.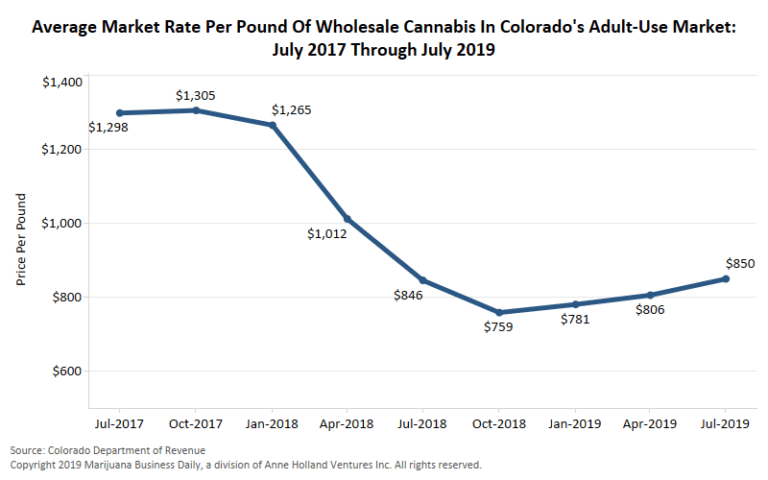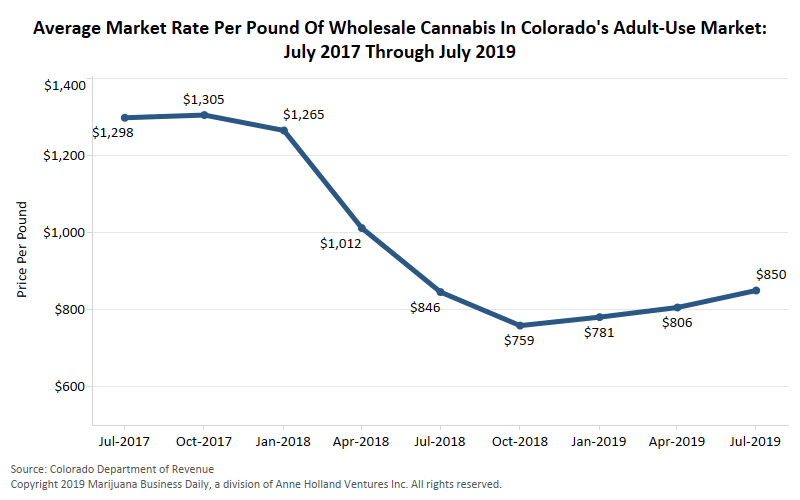 Compare those numbers with a national average increase of 1.2% for wholesale cannabis in other state markets, which the report notes.
Meanwhile, a separate report, by Palo Alto, California-based software company Confident Cannabis, focused solely on the Oregon wholesale adult-use cannabis market and backed up the Seaport Global findings.
It also shows an upward trend for cannabis prices in the state.
According to Confident Cannabis, current wholesale prices for recreational flower range per pound:
Indoor of average quality: $1,000-$1,500.
Indoor of top shelf quality: $1,500-$2,000.
Outdoor and greenhouse: $700-$900.
Trim: $25-$150.
Confident Cannabis gathered the pricing data by facilitating trades since October 2018 through its online wholesale cannabis marketplace, helping about 300 vendors make deals, said Brad Bogus, vice president for marketing and growth for the company.
"The prices are huge," Bogus said. "They're way bigger than they used to be."
Not just a summer trend
While supply typically dips in the summer before the fall harvest and demand ticks upward, the Seaport Global report posits that seasonality doesn't adequately explain the surge in prices.
"In Oregon, there have been reports that quality from the 2018 crop was low, leading to higher 2019 pricing as a result," the report noted.
"Additionally, a related shift towards higher-cost indoor product exacerbates the situation."
The report also suggests that Oregon growers are stockpiling supply, presumably to wait for better prices, as well as reducing production or switching to hemp.
Hot and dry weather in Washington state and Oregon could contribute to lower yields and higher costs for growers as they're forced to irrigate more of the crop, according to the report.
Other possible contributing factors, according to Seaport Global: increased appetite for low-dose and microdose infused products adding to demand, as well as diversion to the illicit market.
Bogus said it's become difficult for buyers to source wholesale flower in the $500-$800-per-pound range.
He said he's also hearing that some growers are getting as much as $2,800 a pound for premium flower.
Bogus attributes the rise in prices to some cultivators going out of business, growers pivoting to hemp and cannabis growers who limited production.
"No one's going to compete at $250-$300 pounds," he said.
Bogus also pointed out that some news reports from the past year may have exaggerated the oversupply problem in Oregon – in particular, those that said Oregon had a cannabis supply that could last 6½ years.
"The hysteria around a fundamentally misunderstood data point has probably led to a reduction in supply because of businesses choosing to stop growing cannabis," he added.
Growing prices
Though he admits Oregon has been oversupplied in the past, Portland-based grower Shane McKee also took issue with the 6½-years-of-supply storyline, noting it doesn't support the upward trend in pricing he's experiencing.
According to McKee, he's now selling wholesale flower for more than $2,000 a pound and has buyers lined up before his next harvest comes out. He said he hasn't seen prices this good since 2016.
Here's what McKee is seeing in wholesale prices per pound in the Oregon market as compared to last summer:
Indoor-grown flower: $1,800-$2,4000 (up from $1,000-$1,500 last year).
B-buds, or midgrade flower: $500-$600 (up from $300-$350).
Trim: $250 (up from $100).
He also doesn't believe the increase in prices is simply a seasonal trend.
"I've been getting good money on big orders," McKee said. "It wasn't just a normal summer deal."
He said that while he also believes that many of his fellow Oregon growers have turned to hemp, he also attributes the dip in supply to farmers going out of business.
"You're losing bad operators," McKee said.
The liquidity is good enough now that he doesn't have to pay a wholesaler 15% of the sale to help him move product.
"I'm getting calls from multiple wholesalers that literally can't find weed," he said.
"Before, everybody and their brother was calling the wholesalers and saying, 'Hey, can you help me sell my weed?'"
In Colorado, Joshua Haupt, master grower and chief revenue officer with Medicine Man Technologies in Denver, said prices for wholesale recreational cannabis were going up each week throughout the summer.
Right now, he's seeing $1,400 a pound for indoor-grown flower, up from $700-$750 this time last year, and $150-$200 a pound for trim, compared with $50 a pound in summer of 2018.
"There's such a lack of it in the state," he added.
"It's wonderful. It's been four years since I've had this feeling."
Bart Schaneman can be reached at barts@mjbizdaily.com