Medical Marijuana Inc. has filed a lawsuit in California against several businesses – including a prominent cannabis testing lab – over statements made about its hemp-based products.
The publicly traded company is seeking at least $100 million in damages, saying the comments caused a huge dip in its stock price and hurt its reputation.
The suit comes just days after a CBD-focused website published an investigative report raising serious questions about the safety of hemp oil developed by Medical Marijuana Inc. and its subsidiary HempMeds. The report cites lab tests that reportedly revealed "significant levels of toxic solvents" in samples submitted by individuals who said they became sick after ingesting the products.
Medical Marijuana Inc. said the report "is based upon false, inaccurate and misleading statements."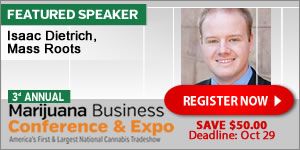 "We will seek full legal remedies and awards for the damages caused by the malicious and intentionally harmful article and actions by the enterprise made up of the publication's author, the publicist, and the company, other parties and individuals," Andrew Hard, a spokesman for Medical Marijuana Inc., said in a statement.
The lawsuit names the Denver-based publicly traded testing company CannLabs and its founder Genifer Murray; the Colorado dispensary Rifle Mountain and its founder Jason Cranford, who formerly served on the board of a company affiliated with Medical Marijuana Inc.; and Stewart Environmental Consultants, a Colorado lab that conducted the tests but is not involved in the marijuana industry.
Murray and Cranford declined to comment.
Medical Marijuana Inc. claims that several of the defendants engaged in malicious conduct by publicly revealing – and commenting on – preliminary lab results from Stewart Environmental tied to tests on the hemp oils. Those results showed high amounts of certain heavy metals in samples of the product.
Stewart Environmental later issued final results showing lower levels of those toxins and admitted it should not have released the preliminary data, according to an email from the lab that is included in the lawsuit.
The lab also allegedly said the samples it tested were not ideal – as they had passed through multiple hands first – and that the initial testing process reflected in the preliminary results was flawed.