One of the more prominent publicly traded cannabis companies has come under fire recently in blogs and stock message boards for its financial accounting methods and other issues, spooking investors and forcing the firm to address the allegations in a recent letter to shareholders.
Medical Marijuana Inc., which owns a portfolio of cannabis and hemp companies, said earlier this week that various "attacks, led by a collective group of individuals with personal motives, have led to uncertainty within our shareholder base." The company indicated that it has faced a deluge of emails and phone calls from shareholders concerned about the criticisms and management's failure "to address those accusations on a more diligent basis."
Amid these concerns, Medical Marijuana Inc.'s stock price has fallen more than 60% since reaching a 52-week high in mid-February (though other factors likely contributed to the decline as well).
Let this be a cautionary tale for investors: If you're going to put money in cannabis stocks, you must have a relatively high tolerance for risk and brace yourself for volatility and uncertainty.
The same types of criticisms directed at Medical Marijuana Inc. have been levied against other cannabis stocks as well, given that most publicly traded marijuana companies are not required to release detailed financial documents because they trade on the over-the-counter market. This makes it difficult to get an accurate reading of their financial health. These types of "penny" stocks are also subject to extreme price swings, so big moves in either direction over a relatively short period of time are common.
The recent criticisms of Medical Marijuana Inc. mainly originate from several posts on the stock-focused website Seeking Alpha.
One post in February by a contributor to the site offered an in-depth analysis of the company's recent financial statements. The damning assertion: The company – which trades under the symbol MJNA – is run by "criminals and alleged fraudsters" and "appears to be a significant stock scam and not a legitimate enterprise."
The piece cites numerous red flags, raising issues with everything from the background of the company's executives and the qualifications of the individual hired to audit MJNA's financial documents to a lack of required disclosures. It also says there is effectively "no active market for the issuer's securities and on a whim all bids/offers can instantaneously vanish." (Note: the contributor wrote the piece anonymously and is shorting the stock, meaning the individual has a vested interest in seeing it decline.)
Other posts by Seeking Alpha contributor Alan Brochstein – a chartered financial analyst with a solid professional background who does not currently own MJNA stock – assert that the company has made questionable and "suspicious" financial accounting moves. "The lack of transparency makes it difficult to trust management, which has pushed the share-count up from 246mm at the end of 2010 to at least 855mm shares now, but this transaction and how it has been conveyed should send any shareholder running for the exit now that the smoke has cleared."
The posts have lit up online stock message boards and helped push down MJNA's shares – despite the company's improving financial position, the fact that there have been positive articles written as well and the rapid growth of several of its portfolio firms, including Dixie Elixirs & Edibles.
Medical Marijuana Inc.'s share price has fluctuated significantly so far this year. It rose sharply in February on news of strong fourth-quarter financial results and general optimism about the marijuana industry but then – like other MMJ stocks – fell sharply in the following weeks. It now trades at about 18 cents a share, down from its recent high of 50 cents but still well up from its 52-week low of 2 cents. It's also up 80% so far this year.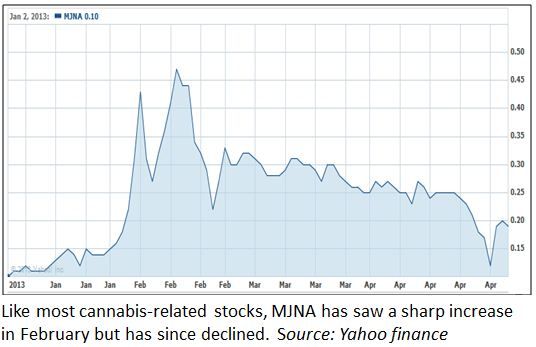 Medical Marijuana Inc. officially responded to some – though not all – of the recent criticisms earlier this week. In the letter to shareholders, the firm:
– Admits to some mistakes that caused financial reporting delays and difficulties in getting products launched.
– Said it needs to do a much better job of communicating with shareholders.
– Announced that Michael Llamas – the controversial director of Medical Marijuana Inc. who has a checkered past – is no longer an executive or board member of the company.
However, Medical Marijuana Inc. Chairman and Chief Operating Officer Michelle L. Sides defended the company against many of the criticisms.
Sides blames the harsh critiques on "short sellers who have made it a priority to relentlessly attack our company as well as its executives for their own personal monetary gains" as well as "individuals who do not like our industry as a whole."
The letter says the company is operating in compliance with reporting requirements and has conducted business in an ethical manner. It also is consulting with its attorneys about possibly taking legal action against certain blog writers at Seeking Alpha.
Sides told MMJ Business Daily that the recent critical posts "created doubt with our shareholders, and we wanted to quash that as soon as possible and move on." She also highlighted the strong underlying growth of the company and its portfolio firms, saying that the future is bright for Medical Marijuana Inc.
Christopher Berrie, who heads up investor and public relations for Medical Marijuana Inc., said the company is looking at this in a positive light, viewing it as an opportunity to learn from its mistakes and develop a stronger relationship with shareholders.
"Everybody is so focused on building our businesses that we haven't been focused on communicating effectively, and that's our biggest mistake and our biggest priority going forward," Berrie said. "We are actively looking at bringing on people to help with that message and to help make everything more transparent and clear."
In fact, the company said it is currently hiring additional workers in marketing, production, sales and operations, and it is moving into a larger facility to accommodate recent and projected growth. Not exactly the signs of a company about to go under.