LAS VEGAS – How might the Canadian cannabis market fare in 2020?
What will happen with the SAFE Banking Act in the U.S. Congress?
How are U.S. cannabis operators complying with marijuana regulations across multiple states?
Those issues and others were among the many U.S. and international cannabis business topics tackled during the second day of Marijuana Business Daily's annual MJBizCon.
Here are some important takeaways.
Canadian cannabis forecast for next year
At the "Canadian Market Outlook in 2020" session, speakers underscored that after one year of recreational cannabis sales in Canada, there is no shortage of challenges for marijuana businesses.
Looking to next year, Torsten Kuenzlen, CEO of Alberta-based Sundial Growers, said he is optimistic that "consumers will now have more choices," with 2020 being "the real first year."
Jeannette VanderMarel, CEO of Beleave in Ontario, expects to see more stores, while Mitchell Osak, national cannabis advisory services leader at Alberta-based MNP, foresees "more operational performance."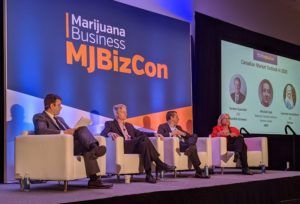 MJBizDaily takeaway: Marketing will remain one of the big challenges in Canada into 2020, according to the panelists, as will staffing and good corporate governance.
VanderMarel noted she expected to see changes in packaging, making the legal cannabis industry more competitive with the illicit market. "You have to be creative" to communicate with customers, she advised.
For Kuenzlen, education of budtenders is critical, while Osak emphasized the importance of referrals.
Good corporate governance will continue to grow in importance, Osak said, adding he expects to see more enterprise risk management.
By the time the next MJBizCon rolls around in 2020, Kuenzlen said he is "really confident" that "five to 10 Fortune 500 companies" will have partnered with cannabis companies.
Cannabis banking predictions
It's not likely the current U.S. Congress will pass the SAFE Banking Act, said Don Childears, president and CEO of the Colorado Banking Association, during the "Cannabis Banking: A Look at Promising Legislation and What to Do Until Then" session.
Childears added he doesn't expect a cannabis banking bill to come out of Congress until 2021 or 2022 at the earliest.
MJBizDaily takeaway: In the meantime, industry experts on the panel emphasized the importance of transparency for cannabis companies to establish a healthy relationship with a financial institution.
Deirdra O'Gorman, CEO of Denver-based Empyreal Logistics, advised providing banks a "(capitalization) table and an organization chart and really outline who your owners are," even if it's a publicly traded company.
Childears noted he would approach engaging with a bank as if the business was applying for a loan and "go in with full disclosure of everything – be as transparent as you can be – because there are people on the other side of the table trying to protect themselves under federal law and so they want to know everything they can about their customers because they are legally required to."
Tyler Beuerlein, chief revenue officer with Arizona-based Hypur, added: "There's at least one institution in each state that's banking the market and inevitably I get a call from an operator and they say, 'Look, why is my bank or credit union asking for all this information? I'm not going to provide all that information.'
"And what I try to explain to them is be thankful for that information. If they're doing it right, that means they're going to sustainably bank your market into perpetuity. That's the institution you want to bank with."
Staying compliant in multiple states
Remaining compliant with regulations governing packaging, marketing and advertising is one of the most challenging aspects of the cannabis industry because the rules – which vary from state to state in the U.S.- change so quickly, according to an MJBizCon panel of cannabis industry experts who spoke during the "Ensuring Continued Compliance in a Changing Regulatory Landscape" session.
The speakers suggested how adhering to the following principles can help minimize risk of noncompliance as marijuana companies look to expand to other states:
Do not order too much packaging, because regulations will change.
Budget for packaging knowing that you'll have to throw some of it away.
Stay in close contact with regulators to ensure you comply with any changes in regulations.
MJBizDaily takeaway: The panelists suggested marijuana businesses establish a solid compliance program and hire a compliance officer to ensure they keep abreast of any new or altered regulations.
"We have at least one (compliance person) for every state we're in," said Erin Alexander, associate general counsel for Chicago-based multistate operator Cresco Labs.
Infused market potentials in Canada
Infused products will gradually start to become available in Canada, which will bring significant new opportunities, according to panelists at MJBizCon's "Evaluating the Infused Market and Regulations in Canada" session.
MJBizDaily takeaway: The panelists said they expect bumps along the way and stressed businesses should maintain reasonable expectations, but they also emphasized how quickly the Canadian market will ramp up.
For Ray Gracewood, senior vice president of marketing and communications at New Brunswick-based Organigram, vapes will mark a huge opportunity, saying he expects the products to make up about 20% of the market. What's the lesson to learn from the U.S. cannabis vaporizer market? "Differentiation and appreciating segmentation in the market," he said.
With many different types of products set to become available soon, "gone are the days when companies do absolutely everything in the supply chain," said Sherry Boodram, co-founder and CEO of Toronto-headquartered CannDelta. This will create opportunities for smaller companies that are laser-focused in niche sectors of the market.
The winding road toward cannabis legalization in Mexico
Mexico is expected to fully legalize marijuana by the end of April 2020, potentially becoming the largest federally regulated market in the world.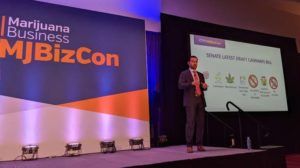 But the path toward legalization hasn't been smooth.
A bill was close to being approved in October – a deadline set by the Mexican Supreme Court – but the government decided to "slow down" after unprecedented pressure from citizens and companies wanting to shape legislation.
Another example of the one-step-forward, one-step-back movement was the ending of 2018 guidelines that allowed the importing of CBD products.
Luis Armendariz, a partner with CAAM Legal, talked about the "strange" context in which the guidelines were approved, in particular the scarcity of legal formalities. The guidelines were revoked in early 2019 by the new government.
MJBizDaily takeaway: The latest draft of a cannabis bill, expected to be the backbone of the upcoming law, currently contains plenty of restrictions, but there are probably going to be "many changes," Armendariz said.
Watch for more session coverage from the staff of MJBizDaily through the end of the conference on Dec. 13.