This weekly series from Marijuana Business Daily and Viridian Capital Advisors provides the latest data on cannabis investment activity and M&A, along with key takeaways, analysis and trends based on recent market moves.
The data below, provided by Viridian Capital Advisors, is through the week ended Jan. 4.
Key takeaways among capital raises:
Israeli device manufacturer Syqe Medical closed a $50 million raise – a funding round estimated to be the single-largest investment into a cannabis-related firm, according to Harrison Phillips, vice president of Viridian Capital Partners. Syqe manufactures medical devices capable of delivering metered-dose inhalations of drugs, including cannabinoids. The raise follows a distribution and cooperation agreement inked in November with pharmaceutical giant Teva Pharmaceutical Industries.
The New Year also kicked off another small, but noteworthy, U.S.-based raise: a $4 million funding round by Chooze Corp., which does business as Lucid Mood. The company is setting out to craft a cannabis vaporizer that boasts formulations that produce a variety of mood states.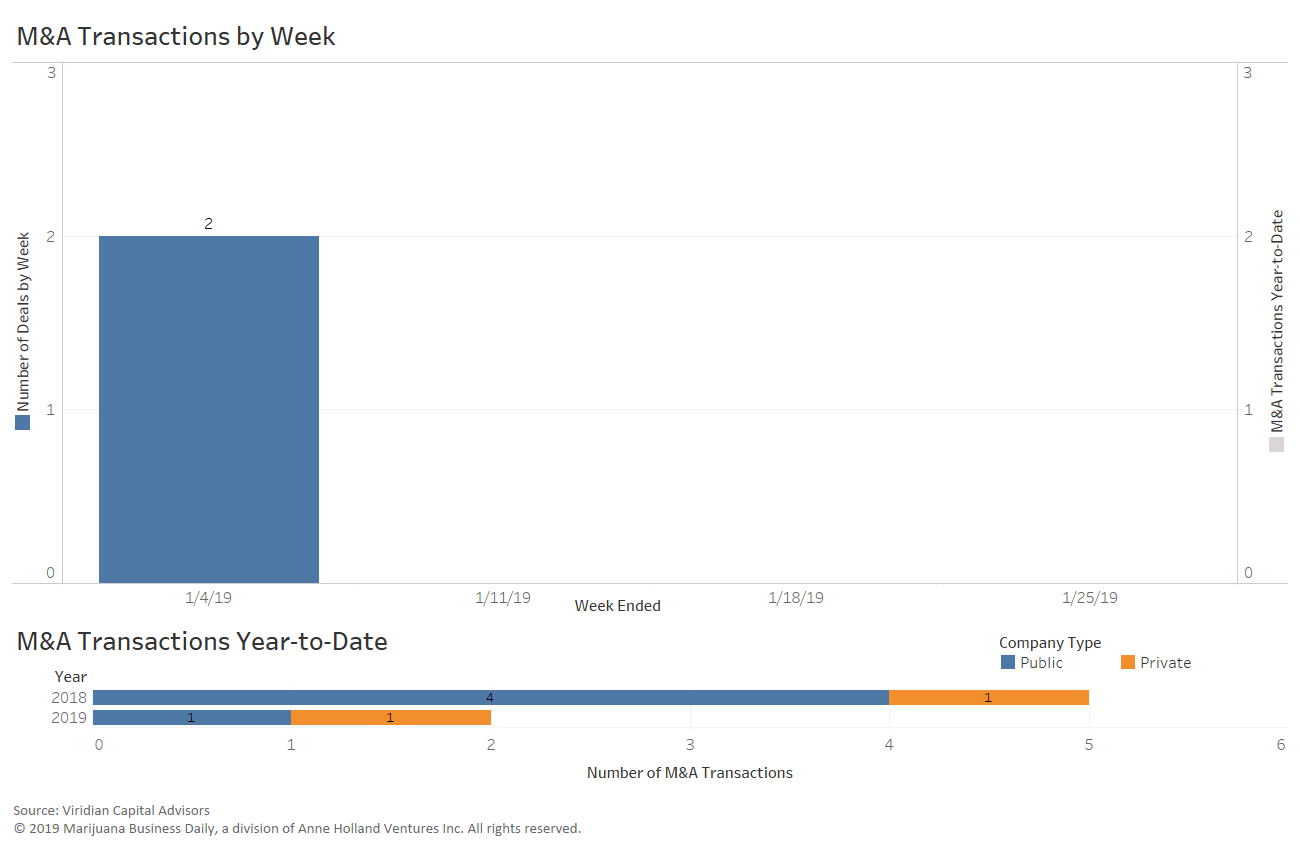 Key takeaways from M&A activity:
Multistate U.S. marijuana firm Acreage Holdings kicked off the new year with a more than $67 million acquisition of Florida licensee Nature's Way Nursery. Nature's Way holds a vertically integrated operating license for a cultivation and processing facility and up to 30 medical cannabis dispensaries, which Acreage expects will carry the firm's newly aligned retail brand, The Botanist, and other "soon-to-launch" products. The company said it expects to "invest significant financial capital throughout 

Florida

 to build out its cultivation and retail operations."
Canadian licensed producer Sunniva closed its acquisition of California-based distributor LTYR Logistics. "Interest in California remains high as it is the single-largest market in the U.S., which is likely the largest market in the world," Phillips said. "Distribution companies continue attracting investment as they are required middlemen between other licensed businesses and are a new license type."
Viridian Capital Advisors is a financial and strategic advisory firm that provides investment banking, M&A, corporate development and investor relations services to emerging growth companies and qualified investors in the cannabis sector.