Oregon's medical marijuana dispensary owners could lose out on millions of dollars in revenue under a new rule that prohibits the sale of sweet and sugary edibles.
On Wednesday, the Oregon Health Authority released draft rules on the state's MMJ industry that will go into place next week as part of the dispensary program created by Senate Bill 1531, which Gov. John Kitzhaber recently signed.
Drafted by Health Authority officials, the list of rules includes many regulations that have become industry standards, such as requiring child-proof packaging on products and allowing local governments to impose moratoriums on businesses.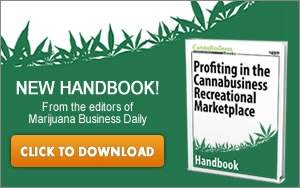 But the rules also prohibit the sale of marijuana-infused products "manufactured in a form that resembles cake-like products, cookies, candy, or gum, or that otherwise may be attractive to minors because of its shape, color, or taste."
Health Authority representatives said the ban is to further protect children from consuming marijuana products. But the state's industry and patients have voiced opposition to the ban.
"It just stinks," cancer patient Gary Stevenson told The Associated Press.
The ban could also cost dispensaries millions in revenue. According to Marijuana BusinessDaily research, edibles can account for anywhere from 15% to more than 50% of overall sales at dispensaries.
Sweet and sugary edibles are among the most popular products for medical patients, since many patients find it easier to eat the plant rather than smoke it.
Tom Burns, director of pharmacy programs for the Health Authority, said the rules could change in the next few days based on public feedback. The Health Authority is accepting feedback at medmj.dispensaries@state.or.us.