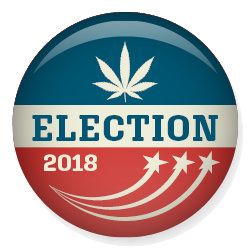 In a victory for Michigan's upcoming adult-use marijuana program and the cannabis businesses that will serve it, Democrat Dana Nessel defeated Republican Tom Leonard in the state attorney general's race.
Nessel was a vocal supporter of Proposal 1, the ballot question that legalized recreational cannabis.
Leonard opposed the measure but told the press he'd uphold the law if it passed.
Marijuana entrepreneurs and proponents of Proposal 1 watched the race closely Tuesday night. They were concerned that, if elected, Leonard's anti-legalization views could harm the potential surrounding an adult-use program in the state.
Nessel maintained a slim lead that carried over into Wednesday morning when Leonard conceded the race, the Detroit Free Press reported.
Here's what you need to know:
The state's medical marijuana program and future rec program business opportunities look to benefit from Nessel's victory.
Proposal 1 supporters said they're confident Nessel, who has called the war on drugs an "abject failure," will play a key role in developing sensible regulations for the state's adult-use market.