By Chris Walsh
Ethan Ruby is hoping to bring relief to thousands of patients in Connecticut – and build a successful business – as the chief executive officer of Theraplant, one of four companies that won a license to produce medical marijuana in the state.
A former day trader who recognized the medicinal value of cannabis after being struck by a vehicle more than a decade ago, Ruby is part of a team that includes an engineer, mainstream business executives and several experienced medical marijuana professionals from Colorado. They hope to combine real-world business experience, cannabis industry know-how and a passion for helping people to create a cultivation company that will serve as a model for the industry.
Marijuana Business Daily spoke with Ruby about starting a medical marijuana production facility, finding financing and the unexpected ease of dealing with local and state officials.
Q: What's been the biggest challenge in starting a cultivation facility so far?
A: I'd say managing people and different personalities, not necessarily the business side of things. This includes everyone from people we've had to hire to executives who have all been my friends for years and years to vendors we've had to contract with to get stuff done.
Banking has also been a very big challenge. We've had to go through several banks. I had private account at a major institution, and it was closed down. We now have several banks lined up and accounts with a couple of them but it's been difficult. There is a bank in Connecticut that has been aware of the issue and seems to be receptive of it.
Q: What advice would you give to others about finding a bank?
A: I would advise being as open and honest as you can. People tend to try to exist in the gray area because this industry has a spotlight on it. But you really shouldn't skirt any laws at all – be 100% honest right from the beginning.
It's also important to stay local. Walk into that local bank and talk to the local branch manager, explain your situation, have them look you in eye and look at your business model and get them to understand you're a business owner just like any other – that you want accountability, tracking and bookkeeping.
Q: What are your estimated startup costs?
A: We raised $7 million for the execution of our business plan in Connecticut – that includes $2 million to purchase the building. We broke our building into three phases. The first phase gets us a propagation room and two flower rooms, plus all of the state regulated rooms (locker rooms, security rooms, vault, harvest, curing, front offices, etc.). We estimated $8 million total for build-out, with $4 million for the first phase.
Q: Aside from real estate, what are your biggest expenses?
A: Here's where it gets into your personal strategy. We spent millions of dollars in HVAC equipment because we want to create the best conditions possible. Most people don't want to spend that much money. Potentially we have overdone it, but we wanted to have the best facility in world and control environmental issues as much as possible. Aside from that, we've spent a lot on security and equipment.
Q: Seven million dollars is a lot for a startup company in this industry. Where is the money coming from?
A: It's all private placement. We did a lot of fundraising and even investor meetings with hedge funds. Institutional money was very problematic because there are a lot of regulatory issues, too much risk and too many hoops to jump through, even though they recognized the potential.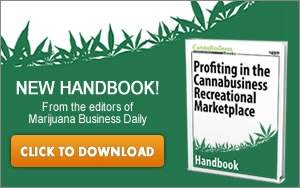 Everyone who invested is currently working for investment firms or other companies, but it's all private money. These are all very accomplished business people in different industries. We didn't take any institutional investments.
None of this involves loans – we sold one class of shares as an LLC (limited liability corporation). We raised $7 million on an $18 million pre-money valuation and $25 million post-money valuation.
Q: When it comes to hiring, are you looking for people with cannabis experience or those in other industries such as agriculture and healthcare?
A: We want to hire locally as much as we can. And we plan to purposely pay people a lot more per hour than minimum wage to attract the best talent. We haven't put out job offers yet but we've already received 250-plus resumes from people who have found us through Google. These are people with horticultural degrees, MBAs and those with a high school degree who have been at home taking care of their families. When it comes to hiring, we're looking for the person best suited for the job regardless of their experience.
Q: How much will you grow?
A: We have the potential to produce up to 100 pounds a month.
Q: What are your estimates for the wholesale and retail price in Connecticut?
A: The dispensaries were just selected by the state, and I don't know what's in their model so I can't speak to what they're doing. I do know that what it costs to produce here in Connecticut is far greater than anywhere else in the world. With testing, labeling, packaging and delivery, it will be around $1,000 a pound. The security requirements are extensive here as well.
However, I do not expect the end price to exceed what patients are currently paying. I would estimate that in New York or Connecticut people are paying $80 to $100 an eighth or up to $30 per gram, and our initial offering will be in that range.
Q: What are your market estimates?
A: We expect 1%-3% of the population [to register as patients]. There are 3.5 million people in Connecticut. Our projections are that we'll have about 10,000 people one year after the first patients are getting product and that we could be at 30,000 patients within 1.5 years.
Q: How many other businesses are you working with in the community?
A: We're working with no less than 100 people – all of them subcontractors, vendors and third-party workers, everything from HVAC to electrical to security to armored car transport to PR.
Q: What has surprised you most about this industry and the process in Connecticut?
A: I think my biggest surprise is how patient-focused and professional and and great to work with the state legislation has been. The Department of Consumer Protection had a monstrous task and they got it done, in the timeline they said it would be done.
Also, Watertown [where Theraplant is located] has been very receptive and accepting. We proved ourselves to them, and in turn they welcomed us into the town. Even the head of economic development recognized the opportunity and helped us navigate the waters of their zoning rules. They were very clear on their concerns. We didn't cut corners and no special treatment was given.