A Denver medical cannabis company says it's "befuddled" by obstacles it has encountered while trying to get licenses to sell MMJ in Massachusetts.
The company, Good Chemistry, was denied dispensary permits in Massachusetts by state health officials.
It tried to get a preliminary injunction against the officials, but this week a judge sided with the state.
Suffolk Superior Court Judge Thomas B. Billings ruled that health officials were well within their rights to reject Good Chemistry's applications, because the submissions contained errors.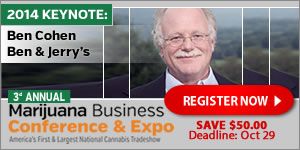 Good Chemistry reportedly intimated that it had reached out to and met with the sheriff and police chief in Worcester, one of the municipalities where it wanted to sell MMJ. But no such meetings ever took place.
Good Chemistry said the wording in its application could be interpreted differently, and that the state read it a different way than intended. It also said mistakes in applications for dispensary permits in two other cities were inadvertent.
Good Chemistry said it is surprised by the judge's ruling and confused about how the whole licensing process has played out.