A third licensed California cannabis business, Venice Cookie Company, has initiated a voluntary recall, the third known recall since more stringent marijuana product testing standards went into effect July 1.
The longstanding California edibles producer announced over the weekend the recall of several of its marijuana-infused beverages because of a changed testing grade from San Diego-based PharmLabs.
"Product we submitted back in June to be tested came back (and) passed in every way. We took it to market. The Bureau (of Cannabis Control) decided to review the testing … and a month later, the lab came back and issued a failing result for ethyl alcohol on some of our products," Kenny Morrison, CEO of VCC Brands, which owns Oakland-based Venice Cookie Company, told Marijuana Business Daily.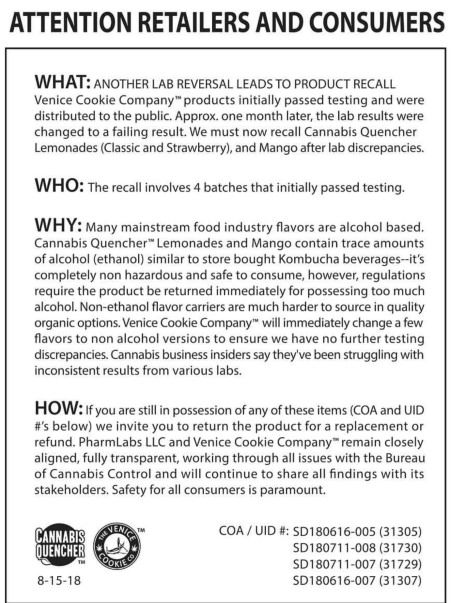 Morrison emphasized in a news release announcing the recall that the failed test stemmed from the company's use of ethyl alcohol-based flavoring in some of its infused drinks, which led to the drinks having too high of an alcohol content under state regulations.
The beverages are "similar to store-bought Kombucha beverages," according to the release, and are "completely nonhazardous and safe to consume."
But out of an abundance of caution, Venice Cookie Company immediately recalled the products and will destroy them, Morrison said.
Venice Cookie Company contacted roughly 100 retailers carrying the products in question beginning Aug. 13 and issued a news release Aug. 17, Morrison said.
Morrison noted his company has not faced any punitive action from California regulators but said the Bureau of Cannabis Control was "very understanding" once it understood the issue was related to flavoring and not, for instance, a potentially dangerous contaminant.
He said the recall will be a minimal cost for his company and chalked it up to "a little bit of turbulence," which he said is to be expected as the industry continues to mature.
"The cannabis industry is an extreme sport. If you're not willing to deal with issues like this, you shouldn't be in the game," Morrison said.
Previously, Encino-based vape cartridge producer Bloom Brands and Los Angeles-based pre-roll manufacturer Lowell Herb Co. recalled cannabis products after failed tests.