According to Vermont patient licensing records, the number of MMJ patients has nearly doubled in the past 12 months. In March 2013, the state had 623 licensed patients; as of March 2014 the number stood at 1,182. As a result, the state's four dispensaries are seeing far more customers than they had initially expected. For example, the Champlain Valley Dispensary, which had anticipated having 100 customers by now, actually has a customer base of 325.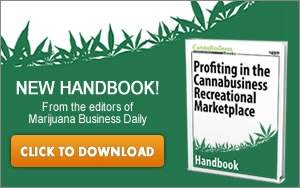 Although founder Shayne Lynn is planning expanding to serve demand, he notes that sales revenues alone are not enough to cover expansion costs. Therefore, instead of bootstrapping, Lynn is seeking investors to help underwrite expansion costs and retire the dispensary's current debt.
The state's caregiver licensing program has grown by 73% in the past 12 months, from 88 to 153 caregivers. Caregivers are legally allowed to buy MMJ from one of the state's four dispensaries and to grow small quantities of plants for patient use.
In total, the Vermont MMJ marketplace is worth 1.9-2.2 million per year, according to Marijuana Business Daily estimates.