You've got your marijuana-infused brownies, candies, lasagna and pizza. But what do you offer patients who prefer to take their medicine the old-fashioned way (in liquid form)?
In the past year, a few companies have introduced THC-spiked beverages in the market, primarily colorful fizzy concoctions (you know, "soda pot"). But here's an entirely new one: medical marijuana-infused water. Think of it as H2O with a kick.
Denver-based Dixie Elixirs & Edibles recently rolled out its Mixed Berry Flavored Water, which contains "40 mg of active cannabinoid in every 12-ounce bottle."
That, according to Dixie managing director Tripp Keber, is double the dose in the company's standard beverages. "People are requiring more and more medicine to alleviate pain, stress and anxiety, so this is great for them," Keber said.
Here it is, in all its glory: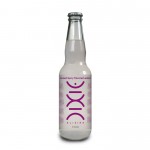 Not only is it extremely potent, it's also sugar-free. The drink is ideal for patients who are watching their waistlines – Mixed Berry Flavored Water has zero calories compared to about 160 for the sodas. But it's even better for diabetics who need to watch their sugar intake.
Keber said the product has been a big hit and that the company can't keep the product on the shelves. Dispensaries are selling it for about $12 to $15 a bottle.
Along with its sodas and the new water, the company rolled out a lemonade and iced tea product just in time for summer. Other new offerings are on the horizon, including a tonic (aka energy drink) that will come in two-ounce bottles and contain 60 milligrams (!!!) of active THC and cannabinoids.
This highlights a promising trend in the industry: diversity. Companies are coming up with an array of creative new products, giving you additional ways to entice customers. And we all know that consumers love having choices. It's a good idea to keep a close eye on what vendors such as Dixie are doing, as you can set yourself apart from the competition by differentiating your offerings.
While the lineup of beverage options is now extensive, I'm still waiting to see medical marijuana-infused coffee, a la the bottled Starbucks Frappucino drinks you can buy at convenience stores…
Photo from Dixie Elixirs